Chicken, black beans, salsa, corn, spinach, cheese and spices make up this quick-to-prepare filling for burritos. The recipe can be made vegetarian by omitting the chicken. It'™s just as good both ways!
Thanks to Michelle T. for sharing her recipe! She says it's great for family dinner because everyone likes it, it's healthy, it freezes well and it's a great way to use leftovers.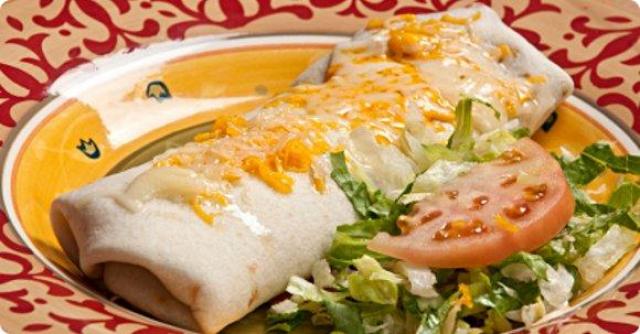 Chicken and Black Bean Burritos
Prep Time: 20 minutes | Cook Time: 15 minutes | Yield: 12 servings
Ingredients
2 cups cooked chicken, diced or shredded

2 15.5-ounce cans black beans, drained

16 ounces of your favorite jarred salsa

16 ounces frozen chopped spinach (can use fresh)

2 cups frozen corn

1 tablespoon cumin (optional)

1-2 cups shredded cheese of choice (cheddar, Monterey Jack, taco mix)

1 package large tortillas
Instructions
Preheat oven to 350 degrees.
Place everything into a skillet except the tortillas and cheese. Cook on medium heat for 10-15 minutes until everything is warmed through. (Filling can be frozen at this point and thawed for use at a later date, if desired.)
Warm tortillas for 15 seconds in the microwave so they are pliable. Add about 1/2 cup of filling to each, top with a handful of cheese, roll up, and place seam side down into a casserole dish. Repeat with remaining tortillas.
Bake for 10-15 minutes or until burritos are heated through and lightly golden brown. Serve.