How Making Lists Will Protect Your Sanity
Some lists are short and sweet. But many of them grow and grow, which can be overwhelming if you're juggling them in your mind.
Don't let your lists clutter up your precious mental space. Instead, just do a brain dump—get all the odds and ends out from inside your head and jot them down on paper!  
Benefits of writing lists
Stay organized
Psychology Today points out that lists are harder to remember than stories, for example, because the items aren't connected in the same meaningful way. Maybe your son needs to take back his library books, but that isn't a natural consequence of having to get your car's oil changed (even if both of them piled up because you were out of town last weekend.)  
If you're only keeping track mentally, you're more likely to lose track. Write your ideas down. 
Feel organized 
Lists can also help you feel a stronger sense of being organized—they're a really simple way to cut down on frustration. They can even make you feel more satisfied with your accomplishments. Basically, a list helps you replace stress with fulfillment. 
Save time
Lists are concise and easy to read. When you make one, you cut out the time you spend trying to remember things (and then going back to the store because you forgot kiwis). When you read a list, you can just scan it quickly and then get to work. 
How to make Cozi lists
Shopping lists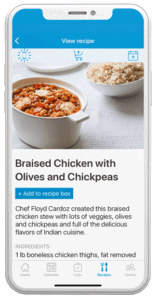 Tap Lists in the bottom menu, which takes you to the Shopping tab. Tap a shopping list, then tap + Add item. Type in your item and that's it! 
Anyone on your account can add to your shopping list. If your son drinks the last of the milk, he can add it to the list right away instead of waiting to (hopefully) tell you, or writing on a paper list you'll leave behind on your grocery store run. 
Cozi Tip: Did you know you can even add recipe ingredients directly to a shopping list? Go to Recipes in the bottom menu and select a recipe (like the Bacon Cheddar Apple Frittata). Then click the shopping cart icon in the top menu, select the list you want to add it to, and tap Save. You can even add the meal to your Calendar. 
To Do Lists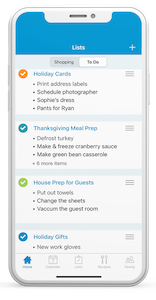 This is where you can go all-out on a brain dump. There's always so much to do, but your tasks feel less overwhelming and more manageable when they're settled in a tidy, orderly list, and not just sloshing around in your brain.  
Here you can assign a list to yourself or a family member (if you're using the mobile app) or keep it as a shared list. Categorize all the jobs to be done by family member, month, or room of the house—you choose! You can create endless lists.  
Cozi Tip: To organize your tasks even more, you can create headings for different sections of your list. In the Cozi mobile app, just type in all caps to automatically turn an item into a colored section subheading. When using Cozi on the web, click the three-dot icon in the upper left corner of your list and select Add Section.
Give your brain a break
Lists are psychologically healthy, practically efficient, and convenient. Give it a whirl and start building your own lists in Cozi on the web through the link below. Or, open the mobile app and navigate to Lists to get started. 

Cozi Family Organizer is the must-have app for busy families - easy to use and free in the app store. You'll wonder how you managed your busy life before Cozi. Get Cozi today!