Careers
Join the Cozi family.
Do you have a passion for helping make life easier for families? Want to work with a talented, collaborative team in downtown Seattle? We'd love to have you on board.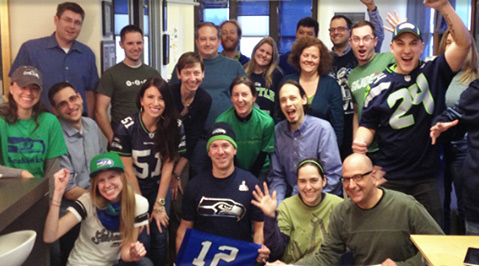 When you work at Cozi, you're part of a team that helps families communicate, stay organized, and enjoy what life has to offer.
Whether you're a seasoned developer who loves a run along Elliot Bay at lunchtime, a mom rejoining the workforce, or a recent graduate looking for real-world experience, you'll find our flexible work environment suited to your lifestyle needs. To us, it's a no-brainer. We've simply found that happy employees create a stellar business. Sounds downright revolutionary, doesn't it? Check out our job openings below.
Perks
There truly are benefits to working at Cozi. Oh, sure, we offer all the usual things, but when we say "benefits" we're really talking about something else. We're talking about all the things you won't find at other companies. Because at Cozi, bringing families closer together doesn't apply just to our products, but to our entire company culture.
401(k) matching and a generous time off policy.
Free snacks, drinks, and specialty coffee.
Subsidized gym membership.
Bi-weekly swizzles (afternoon get-togethers) and Cozi family lunches (catered company lunches).
Health, dental ,vision, and life insurance for you and your family.
Our Location
Cozi is located in the Exchange Building, steps from the beautiful Seattle waterfront and near Pioneer Square and Seattle's downtown district.
Cozi office in Seattle, Washington
We hire exceptional people who demonstrate outrageous integrity and passion in everything they do.
We improve families' everyday lives through innovative product experiences.
We work at a sustainable pace fostering a balanced lifestyle for each individual.
We strive for relentless improvement in how we do things so that we exceed customers' expectations.
We take the long view as we build a profitable business.
Software Developer
The job:
In this role, you will be contributing across the Cozi product line. Our engineers are focused on solutions that help our customers solve their problems, and also have an eye on building sustainable systems that can be maintained for many years. Cozi engineers take the long view and advocate for building software the right way. We believe that a great engineer is flexible, and we are looking for people that are passionate about learning new technologies.
In this role, you will:
Create new functionality and modify existing functionality in the existing Cozi products
Help us build great new products
Work with your team to write stories, groom the backlog, and help direct the course for our products
Collaborate closely with your fellow engineers during development and testing
You have:
Bachelor's or higher degree in computer science or related field, or equivalent work experience
About Cozi
Cozi makes the world's #1 app for families, with more than 16 million registered users. Available in Google Play, Apple iTunes, and on the Web, Cozi helps busy families manage their calendar, remember shopping and to do lists, plan meals, and capture family moments. Cozi is fanatically focused on helping families of all shapes and sizes coordinate, communicate, and connect.
In June, 2014, Cozi was purchased by Time Inc., the publisher of Real Simple, Cooking Light, and many other world-class magazines. Cozi offers attractive benefits, a rewarding work environment, and daily possibilities to have a deep impact on products that are used by families worldwide. Cozi is based in the Pioneer Square neighborhood of Seattle in a customized startup space in the historic Smith Tower.