Careers
Join the Cozi family.
Do you have a passion for helping make life easier for families? Want to work with a talented, collaborative team in downtown Seattle? We'd love to have you on board.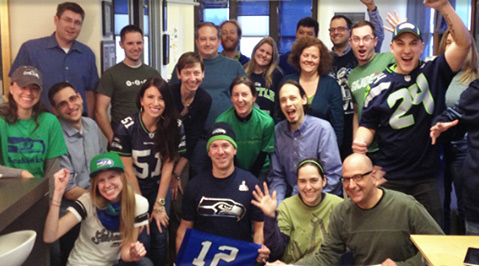 When you work at Cozi, you're part of a team that helps families communicate, stay organized, and enjoy what life has to offer.
Whether you're a seasoned developer who loves a run along Elliot Bay at lunchtime, a mom rejoining the workforce, or a recent graduate looking for real-world experience, you'll find our flexible work environment suited to your lifestyle needs. To us, it's a no-brainer. We've simply found that happy employees create a stellar business. Sounds downright revolutionary, doesn't it? Check out our job openings below.
There truly are benefits to working at Cozi. Oh, sure, we offer all the usual things, but when we say "benefits" we're really talking about something else. We're talking about all the things you won't find at other companies. Because at Cozi, bringing families closer together doesn't apply just to our products, but to our entire company culture. And as part of Meredith Corporation, you will have the best of both worlds: a creative and close-knit team backed by the world's largest publishing company .
Meredith Corporate benefits include:
401(k) matching and a generous time off policy
Full benefits package for you and your family
Subsidized ORCA commuter benefits
As part of the Cozi team, you'll also enjoy:
Free snacks, beverages, and specialty coffee, plus a generously stocked community kitchen
Bi-weekly team demos and afternoon get-togethers
Cozi is located at 413 Pine Street, in the heart of Seattle's shopping district and steps to Pike Place Market.
We hire exceptional people who demonstrate outrageous integrity and passion in everything they do.
We improve families' everyday lives through innovative product experiences.
We work at a sustainable pace fostering a balanced lifestyle for each individual.
We strive for relentless improvement in how we do things so that we exceed customers' expectations.
We take the long view as we build a profitable business.
Senior Marketing Manager, Consumer Subscription Products
Cozi is the #1 family organizing app and we have an exciting opportunity to help grow our already large and passionate Cozi audience. We are seeking an experienced marketer to create conversations about Cozi and drive our influencer and ambassador marketing strategy. You will be a key player on a small marketing team where you'll contribute to the strategy, planning, and execution of programs that lead to Cozi awareness, customer acquisition, and revenue.
Smart, ambitious Marketer to grow Meredith's digital consumer products businesses. Jump into and play a key role on the team challenged with identifying strategies and tactics for scaling the existing portfolio, and with driving the strategy and go-to-market execution of future consumer subscription products.
Job Summary | Major goals and objectives.
I. Scale the reach, awareness, and consumer revenue of Meredith's existing and future consumer products (Cozi Family Organizer mobile app, Cooking Light Diet, and new products that may include additional apps, paywalls)
Be a key player on a small marketing team where you'll contribute directly to the strategy, planning, and execution of programs that lead to product awareness, customer acquisition, and revenue.
Work cross-functionally – Edit, Product, etc. – on new features, new acquisition strategies
II. Essential Job Functions
Lead and execute acquisition, engagement, and subscription marketing strategies and campaigns across multiple channels (i.e., app stores, display, email, social, search, affiliate, partner marketing.)
Analyze, test, and continually optimize campaign response and effectiveness
Continuously optimize conversion flow, minimize churn
Define and master the underlying business levers and drivers of our portfolio of existing subscription businesses to make data-informed decisions about business performance and growth opportunities; define hypotheses on business levers for new product launches.
Develop and execute all acquisition programs in conjunction with internal groups at Meredith. Coordinate and execute multiple campaigns. Manage campaign process including schedules, creative process, materials, and operation details
Budgeting, Reporting and Analysis: monitor budget/forecast projections, ensure appropriate tracking and financial efficiencies; prepare reports and analyze campaigns to determine future plans and profitability.
Clearly define success metrics, KPI's and reporting prior to implementation and provide performance analysis/insights post campaigns.
Stay up-to-date on new marketing channels, suggest innovation in our marketing approaches
III. Minimum Qualifications and Job Requirements
Specific Knowledge, Skills and Abilities:
Demonstrated record of success driving acquisition to paid subscription products – preferably digital products – through cross-channel efforts such as Search Marketing, Social Media, Influencer/Partner Marketing, Affiliate/Referral Networks, etc.
Experience in marketing mobile apps via mobile app install campaigns, e.g. via Apple Search Ads, Google Play Network, and Facebook
Data-driven, with an aptitude for and interest in working with data to continuously improve marketing programs, improve engagement metrics and deliver upon overall company goals and metrics
Experience designing and executing A/B tests to drive acquisition, conversion, revenue optimization
Outstanding verbal and written communication skills, ability to make metrics-driven recommendations to cross-functional key stakeholders
Strong attention to detail, excellent organization skills, and ability to manage multiple projects and responsibilities
Excellent relationship building skills with a demonstrated capability for creating innovative ways to engage with individuals in person and online
7-10 years in a marketing role focused on acquisition/engagement of subscription-based products or services
Preferred Experience includes experience with new product launches, with paid mobile apps, with paywalls
BA/BS in Marketing or related field.
Please apply to jobs@cozi.com
Send your resume to jobs@cozi.com and we'll be in touch!