Keep the Family Up to Date with Daily Agenda Emails

Cozi tracks everyone's schedules in one place so it's easy to see who's doing what. Did you know that Cozi can also help make sure that others in the family know what's going on, even if they don't check the app?
Turn on Daily Agenda emails for yourself or others, and every morning an email will arrive that lists your family's calendar events for the day. It's just one more way Cozi communicates the schedule and makes sure everyone is in the know.
How to turn on Agenda Emails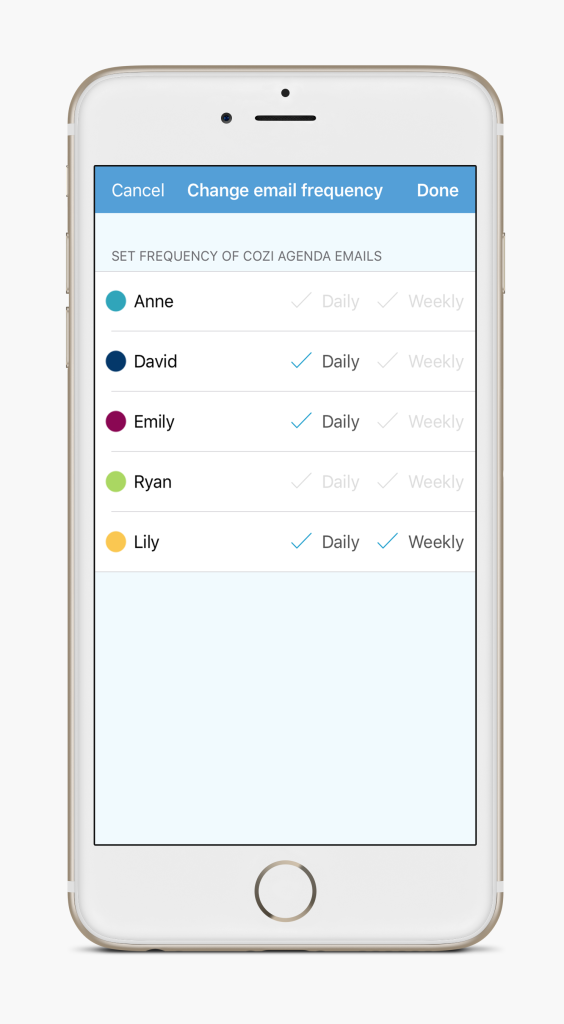 Open your Cozi mobile app and navigate to Family Settings (To do this on iOS, tap the Family icon in the bottom menu then tap the Family Settings button under your family name. To do this on Android, tap the three-bar Menu icon in the top left of your screen then tap the Family Settings button under your family name.)
On the Family Settings screen, tap on Agenda emails
Select which family members will receive the Daily Agenda emails (arriving each morning) and Weekly Agenda emails (arriving once a week on Sundays).
To turn on Agenda emails from a desktop computer, select Settings in the left menu, and then choose Email notifications.
What People Are Saying About Daily Agenda Emails
I love it!! I would always wait till I could get home to see my paper Calendar then would usually forget. Now I have everything mapped out on the app. It emails people in my family about events which minimizes arguments that stem from lack of communication. Everyone is on the same page. Def recommend.

Cozi Family Organizer is the must-have app for busy families - easy to use and free in the app store. You'll wonder how you managed your busy life before Cozi. Get Cozi today!