Join Us for Small Victory Friday – There's a Cozi Gold Giveaway Every Week!
Each week you do tons of things to take care of the family, the house, yourself and maybe even pets, extended family, friends and neighbors. This is true even if your tendency is to dwell on what still remains on the to do list ;).
That's why each Friday we devote the Cozi Facebook Page to shining a bright light on all those accomplishments. The more the merrier, so please join us! As a bonus, everyone who participates is entered to receive a one-year up grade to Cozi Gold, the premium version of Cozi!
How to Participate in Small Victory Friday
Like the Cozi Facebook Page. You can do it right here without leaving this page – just click the blue 'Like' button if you don't already follow us on Facebook:
Each Friday, watch for our Small Victory Friday post on Facebook. When you see it, add a comment to the post with something you got done during the week. We're celebrating accomplishments, so anything that feels like one counts.
That's it! We pick one winner at random each week from everyone who left a comment on our Small Victory Friday post. Good luck!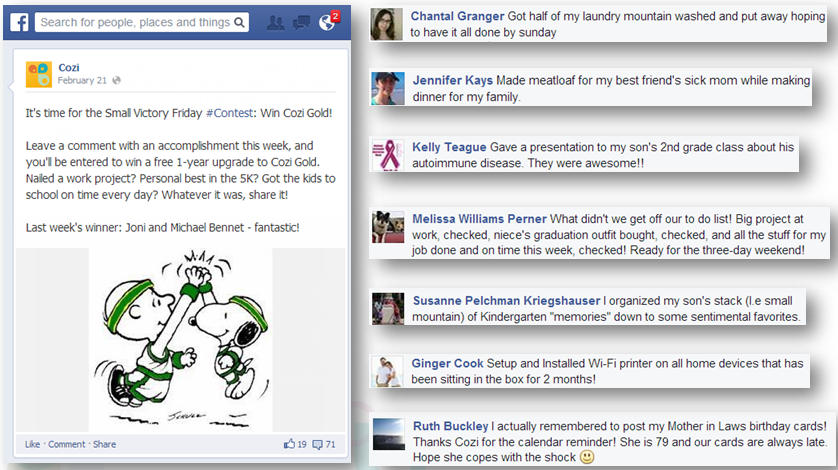 New to Cozi? It's the simple way to manage your busy family life with a shared calendar and lists that you can access from any mobile device or computer. Sign up for Cozi. It's FREE!