Happy Thanksgiving from Cozi!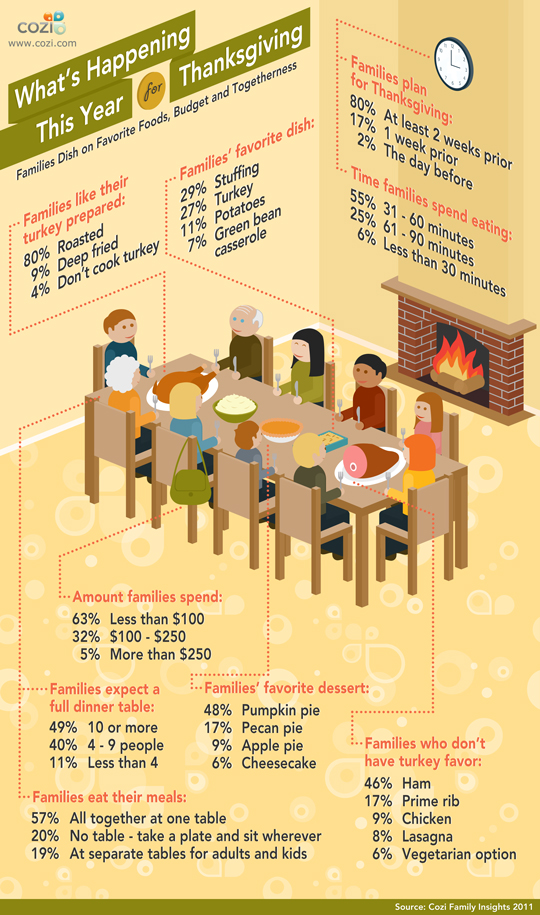 Over 700 Cozi families shared what happens in their household on Thanksgiving Day, from favorite foods and who prepares them (most popular answer: the whole family!) to how many people come and where they all sit to eat. Family togetherness is a top priority for families on Thanksgiving Day and for most, the day is happy and fun, but exhausting!
Besides a big meal with family, saying what you're thankful for is the most common activity for the day. But we also learned about some unique Thanksgiving traditions in case you're looking for ideas that are sure to make lasting families memories.
And since Thanksgiving marks the start of the holiday season and the spirit of giving, we thought we'd take this opportunity to let you know that Cozi supports the No Kid Hungry® Campaign – a movement of over 100,000 people who are committed to ending childhood hunger in America. There are two ways you can join us in support of this effort: simply take the pledge to add your name to the movement, or donate to the campaign to help connect hungry children with nutritious meals. For the holiday season (until December 31st), your donation will be doubled thanks to matching partners!

New to Cozi? It's the simple way to manage your busy family life with a shared calendar and lists that you can access from any mobile device or computer. Sign up for Cozi. It's FREE!