Getting Started with Cozi on the web
The web version of Cozi is full of features designed to simplify your family life. Here's how to get it set up.
Getting Around Cozi on the Web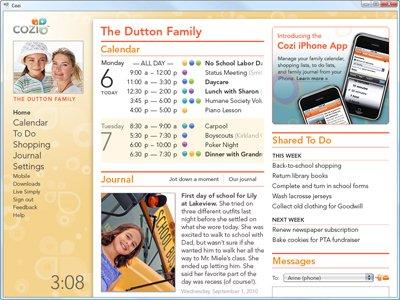 The Cozi home page brings all your family's information together so you can see it at a glance, including calendar appointments for today and tomorrow, items on your shopping list and to do list, your most recent Cozi Family Journal entry, and more.
To get back to the home page, click Home below your family photo in the left column or click the Cozi logo in the upper-left corner of any page.
To add or change the family photo, click on it at any time. The Choose Your Family Photo page is displayed, where you choose a new photo to display.
Adding family members to your account
To get the most out of Cozi, add your family members or anyone else you'd like to include in your account:
Click Settings in the left column, and then select General information about your household.
Fill in the names of your family members.
Enter your family members' email addresses so that they can sign into this account, and so that you can easily communicate with each other via e-mail messages from your account. You can also choose to send weekly agenda e-mails to anyone in your account with an e-mail address.
Click Done to save your changes and go back to the main Settings page.
You can click the other options on the main Settings page to further set up and customize Cozi for your family.
When you're finished adding this information, click Done to save your data and return to the home page.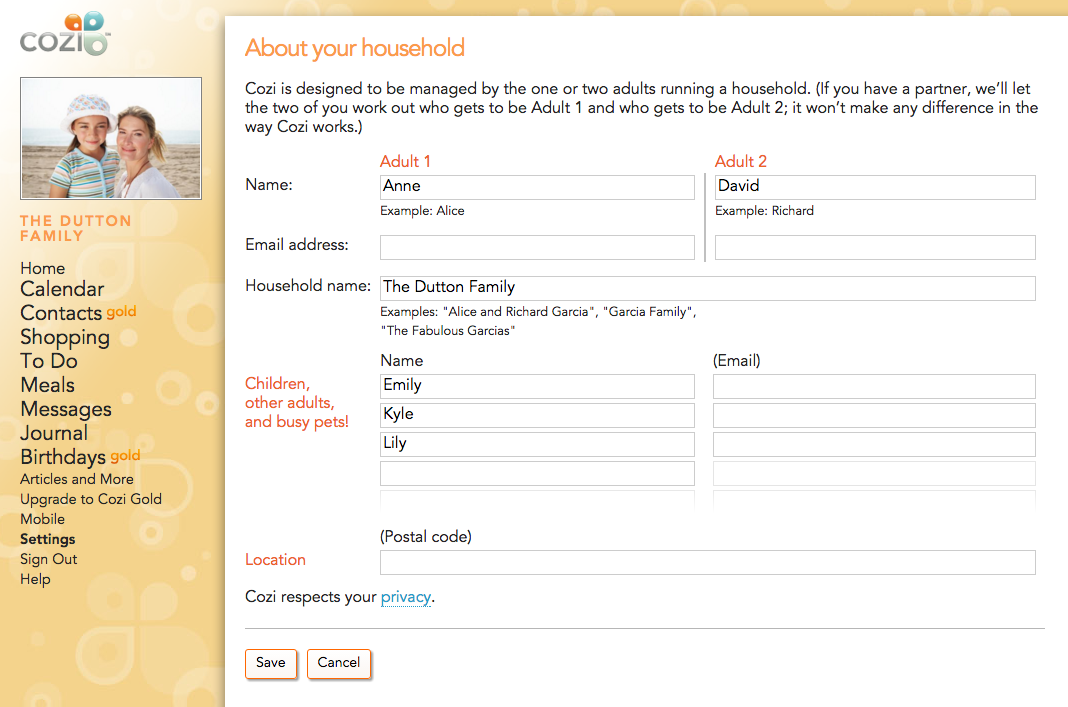 With Cozi, you need only one account for your family. You'll all be able to access the same account and same information for your family, regardless of where you are.
Your family account has one shared password (case-sensitive) and can contain multiple email addresses—one for each family member. Whenever you sign in to Cozi, you can use any email address associated with your account, but everyone always uses the same password (case-sensitive).
Note: Please do not use the same e-mail address in more than one Cozi account. Doing so could prevent you from accessing your account and could create password problems. If you are including friends or extended family in your Cozi account, please let them know so they do not use the same e-mail address for their own Cozi account.