Getting Started with Calendar
Cozi Calendar makes it easy to manage everyone's schedules, in one location the whole family can see. Here's how to set it up.
On the web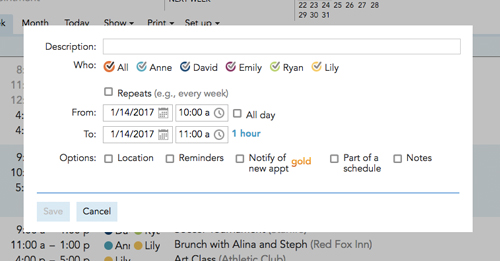 To enter an appointment in Cozi on the web, go to Calendar, then double click on the day you'd like to add an appointment.
In the app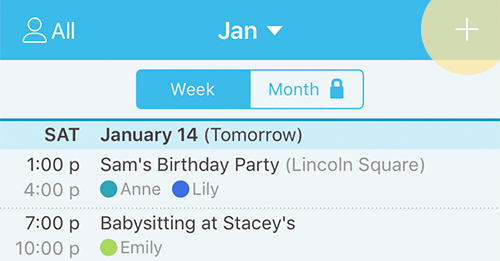 To enter an appointment in Cozi in the mobile apps, go to Calendar, then tap + on the top right corner of the screen.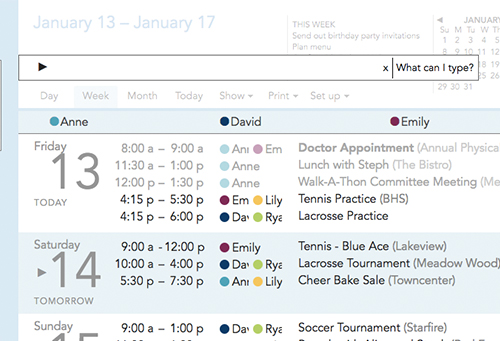 Using natural language entry
On the web, enter an appointment in the text bar at top of calendar page. Use wording like:
Ann/John: Dinner out Friday at 8pm
Kate and Henry: Swimming Saturdays 10-12 until September
Kate: Preschool 9-12 every weekday ending August 20
Basketball practice 3:00-5:00 every Tuesday and Thursday
Book group Sundays at 5:00 pm ending after 6 times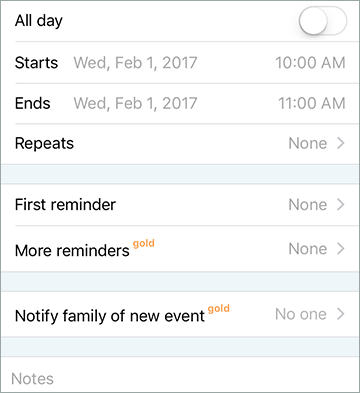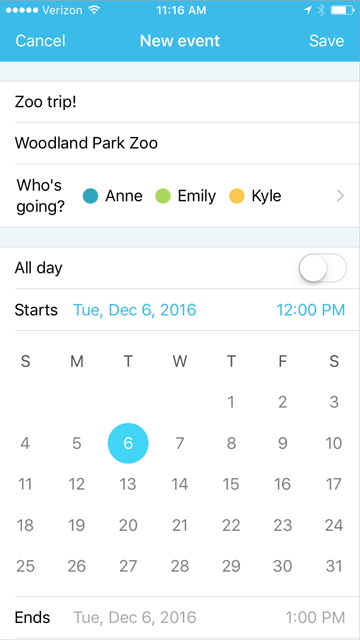 Using the iOS date picker
When you want to add an event that is more than a few days in the future, our day picker makes it easy to navigate through months. Just scroll left to move to future months, and scroll right to move back. To select a date, tap it, and the time picker will open.
Appointment Reminders
You can choose to receive appointment reminders using any of the following methods:
---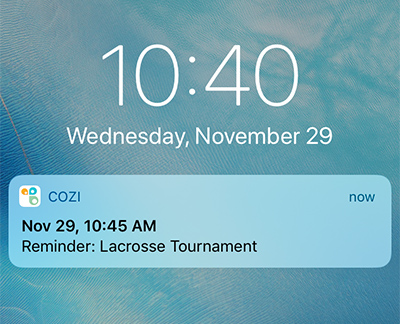 On-device notifications
On-device (push) notifications are available for Cozi mobile app users.
iOS: In your phone settings, go to Notifications, then select Cozi. Make sure all the buttons are green/enabled. We recommend the Alerts notification style.
Android: In Cozi, go to Settings, then scroll to Device settings. Tap Set notifications, and check the Device notifications box.
---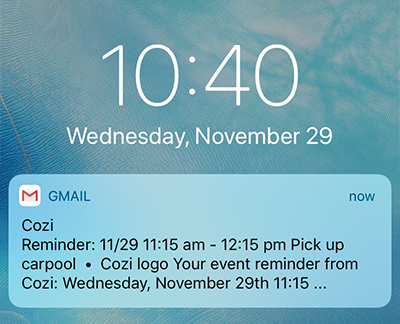 Email
Appointment reminders will be sent by email if no mobile phone number is set, or if on-device notifications are disabled.
If you are having trouble setting up reminders, please contact us.
Change color coding
Color coding appears in the Calendar week view, and helps differentiate appointments.
On the web
1. Click Settings in the left column.
2. Click Calendar, and then choose a colored dot for each family member.
3. Click Done to save your changes.
Note: The color for All can only be changed in the web version of Cozi.
In the apps
1. Tap Settings in the left column.
2. In Household members, select the person whose color you'd like to change.
3. Tap Color and select a new color.
3. Tap Done to save changes.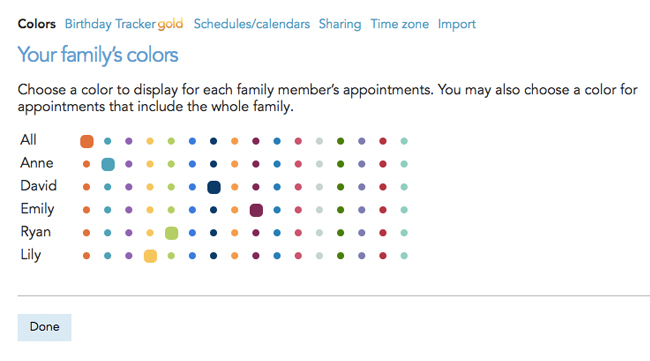 From another calendar to Cozi
Share appointments from other calendars to Cozi in a read-only format. This feature enables you subscribe to other calendars in Cozi, including school calendars, work calendars, sport team schedules and more. Any time the external calendar is updated, the changes will automatically be reflected in Cozi when you next access your Cozi calendar. Note that changes made in third-party calendars may take up to 20 minutes to reflect in Cozi.
From Cozi to another calendar
Share appointments from Cozi to another calendar program (or to another Cozi account) in a read-only format. It's a great tool for family members who need a read-only view of someone's schedule, or for sharing Cozi data to other calendars your family members might use.
With calendar feeds share from Cozi, any updates made in Cozi will be updated automatically in the receiving calendar when that calendar next checks for changes to incoming calendar data.
Directions to add Cozi calendar appointments to another calendar program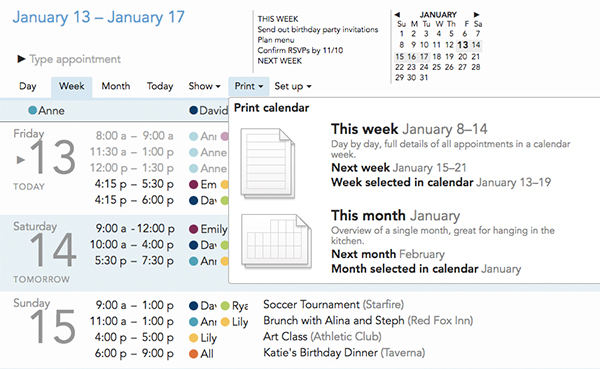 Printing is available in the web version of Cozi. To print, you'll need the latest version of Adobe Reader installed on your computer. You can print a schedule for the whole family or for selected family members. Just go to your Calendar, click Show to choose which family members to include, click the Print button, and select a date range.
More Getting Started Guides