Baked macaroni and cheese with a flavor boost from onions, garlic and artichokes. If your family loves artichokes, go ahead and add two cans to make this dish even yummier.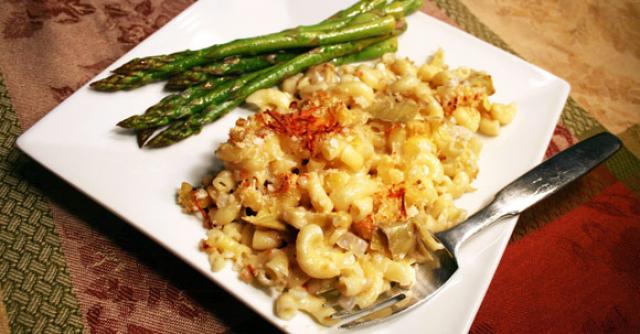 Wack 'n Cheese
Prep Time: 25 minutes   |   Cook time: 30 minutes   |   Yield: 6 servings
Ingredients
1 box (16 ounces) elbow macaroni (white or wheat)
2-3 tablespoons olive oil and/or butter
1 clove garlic, minced
1 medium sweet onion (Vidalia or Walla Walla), diced
3 tablespoons flour
2 cups milk
1 can (14 ounces) artichoke hearts, drained and coarsely chopped
1 cup shredded mozzarella
1 small log (4-5 ounces) goat cheese
Salt and pepper to taste
1/2 cup bread crumbs (Panko style recommended)
Grated parmesan to taste
Instructions
Cook macaroni al dente, drain and set aside.
Meanwhile, preheat oven to 350 degrees and grease a 9×13 casserole dish.
In a large saucepan, heat olive oil and/or butter over medium heat.
Add the onions to the butter and saute until soft. Add garlic and saute one or two minutes more.
Sprinkle in flour and cook about a minute while stirring.
Whisk in milk and bring slowly to a simmer. Stir in artichoke hearts.
Turn off heat and add mozzarella and goat cheese. Stir until cheese is melted.
Add pasta and combine thoroughly. Add salt and pepper to taste.
Transfer to casserole dish. Top with bread crumbs and Parmesan.
Bake, uncovered, 30-35 minutes, until breadcrumbs are browned.