Un-Bourbon Chicken is based on a Chinese dish made with chicken in a ginger, soy and brown sugar glaze. This version was a big hit with the family – it has no bourbon and can be made in the slow cooker or in the oven.
Thanks to Kaye S. for sharing her Bourbon Chicken recipe! Her original recipe was for the slow cooker, but we loved how it came out baked, so we offer instructions for both methods of prep.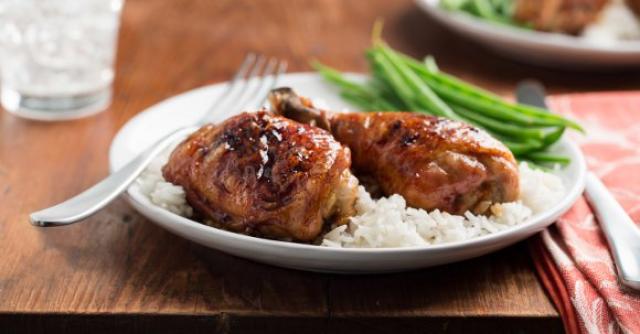 Un-Bourbon Chicken
Prep Time: 15 minutes   |   Cook Time: 45 minutes  | Total Time: 1 hour  | Yield: 4-6 servings
Ingredients
2 pound boneless skinless chicken breast, or 6-8 pieces whole chicken thighs, legs or breasts
1 garlic clove, minced
1/4 teaspoon ground ginger, or 2 teaspoons fresh grated ginger
1/4 teaspoon crushed red pepper flakes
1/4 cup apple juice
1/4 cup light brown sugar
2 tablespoons ketchup
1 tablespoon cider vinegar
1/2 cup water
1/3 cup cup soy sauce
Instructions
Slow Cooker Preparation: Put chicken in bottom of slow cooker. Cover with remaining ingredients. Cook 6-8 hours on low. Remove chicken and shred or cut into chunks. Return to slow cooker and stir to combine. Serve over rice and top with more crushed red pepper flakes.
Baked Preparation: Preheat oven to 375 degrees. Place the sauce ingredients (garlic, ginger, red pepper, apple juice, brown sugar, ketchup, vinegar, water, soy sauce) in a saucepan. Heat over medium high heat until boiling, then reduce heat and simmer for 5-10 minutes. Arrange the chicken pieces in a baking dish or casserole and pour the sauce over top. Bake for 45 minutes. During the last 15 minutes, baste the chicken a few times with the sauce.