This family dinner recipe is a simple but delicious braised chicken served over a vegetable quinoa.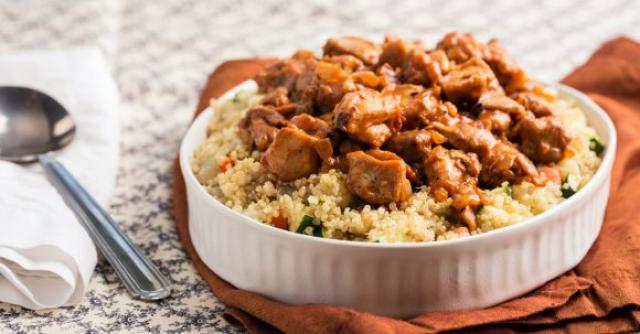 Quick Braised Chicken Thighs with Fennel Quinoa
Prep Time: 45 minutes | Cook Time: 20 minutes | Yield: 8 servings
Ingredients
CHICKEN

1 tablespoon extra virgin olive oil

3-4 cloves garlic

1 onion, diced fine

6 chicken thighs, boneless skinless, sliced or cubed

1/2 cup dry vermouth or white wine

2 cups chicken stock, no salt added

1/2 cup sherry vinegar

1/4 cup crushed tomato

4 sprigs thyme or 1 tablespoon dried

Pinch kosher salt

Black pepper to taste

2 tablespoons butter (optional)

2 teaspoons flour (optional)

QUINOA

1 1/2 cups quinoa raw

2 bulbs fennel, chopped small

3 cloves garlic, chopped fine

1 carrot, diced small

6 leaves mint, chopped

chopped parsley

2 zucchini, diced small

3 tablespoons extra virgin olive oil

Pinch kosher salt

Cayenne to taste

FRUIT MEDLEY

1 cup fresh blueberries

1 cup fresh nectarines, cut into small chunks
Instructions
Heat a large pan over medium high heat. Chop garlic and onions and set aside. Cut chicken into small pieces. Season with Kosher salt and black pepper, lightly dust with flour.
Add oil to heated pan then carefully add chicken. As pieces brown, make room in pan for onions and garlic. Stir often to prevent burning for 2 minutes.
Add wine and scrape the dried bits from the bottom of the pan. Add stock, 1/2 of sherry vinegar, tomato and thyme. Bring to a simmer and cover.
After 10 minutes uncover, add butter, and turn up heat and stir frequently to reduce to a thicker, nicely bound sauce (reduction could take up to 20 minutes). Add additional vinegar as needed/desired.
For quinoa: Follow instructions for quinoa (I recommend 1 1/2 cups water to 1 cup quinoa). While it is cooking, chop vegetables and garlic. In saute pan, heat olive oil and add fennel. Toss and season with kosher salt. Once lightly colored and softening, about 3 minutes, add garlic and carrot to pan and saute another minute to just wilt the carrot. Remove to a bowl and add herbs, zucchini and pinch of cayenne pepper. When quinoa is ready (12-14 minutes typically) toss with the seasoned vegetables. Taste and adjust seasoning as desired.
Serve the chicken and sauce over the quinoa. Serve the Fruit Medley as a side dish or dessert.