I first tried this dish at the home of a friend who was hosting a book-club gathering. I begged her for the recipe, but when she emailed it over it was one of those grandmotherly-lady-whose-been-cooking-since-I-was-in-diapers recipes that includes instructions like, "4-12 eggs, depending on how you like it." Yikes!

So I tried it a few different ways, and of course, she was right. This recipe is incredibly flexible, so if you have more or less on hand of what it calls for, just toss it all in. Chances are it will be delicious either way.

The one thing I did find that makes a pretty big difference is the kind of cheese. When I make this for adults, I load it up with Jarlsberg cheese and black pepper, because I just love the tangy zip that Jarlsberg delivers to any dish. But when I make it for the kids, I use mild cheddar and/or a mix of Mexican cheeses to give it a more accessible, kid-friendly flavor. My recommendation is to use the cheeses your family loves best. It's hard to go wrong with melted cheese!

PS: Leftovers are perfect to cut up and eat cold in lunchboxes the next day, so don't be afraid of making a whole pan. It's guaranteed to go quick!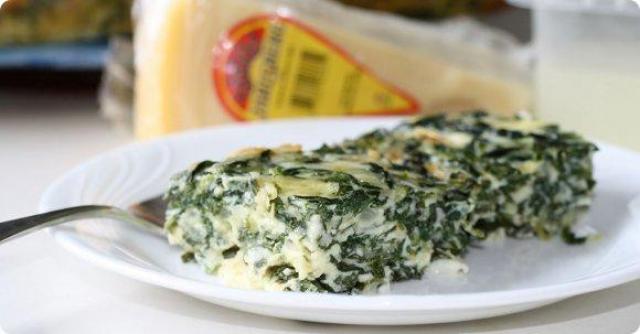 Easy Spinach Cheese Souffle
Prep Time: 15 minutes | Cook Time: 35 minutes | Yield: 6-8 servings
Ingredients
non-stick spray (or butter or vegetable oil) for greasing pan

1-2 tablespoon oil or butter

1/2 onion, thinly sliced or roughly chopped (Vidalia, Walla Walla or other sweet onions are best), optional

2 packages frozen spinach, defrosted OR 20-24 oz of fresh spinach

8 eggs

1-1 1/2 pounds feta cheese, crumbled

1-1 1/2 pounds Jarlsberg, cheddar or any other favorite semi-soft cheese, shredded

salt and black pepper to taste (The cheeses I use, especially feta are are pretty salty so I do not add salt.)
Instructions
Preheat oven to 350 degrees.
Grease a 9×13 baking dish.
If using, saute the onions on medium heat (not high) in about 1-2 Tbsp oil or butter until nicely browned. Set aside to cool.
If using defrosted spinach, squeeze out all the water and dry it as much as you can with paper towels. (Do not skip this, dry spinach makes all the difference.)
If using fresh spinach, blanch it in salted, boiling water, drain, and squeeze and dry it. It's fine to use a combination of fresh and frozen spinach.
Beat the eggs in a large bowl.
Add the shredded cheese, sauteed onions (if using), salt and black pepper to taste. Add the spinach and mix together well.
Pour mixture into the greased pan.
Bake at 350 degrees for approx 35 minutes, or until set and slightly browned. If serving immediately, cover with foil and let rest for 10-15 minutes before serving.