This easy version of goulash, made with hamburger and elbow macaroni, was a popular family dinner in the 1970s. Do you remember it? It's a crowd-pleaser and fits any frugal budget. Plan it for a night when you'll have big appetites at the table.

Get this recipe on your mobile device! Cozi, the must-have calendar and organizing app for families, has this recipe, plus many more easy weeknight dinner ideas. Find Cozi in the app store, or sign up on the web. It's free!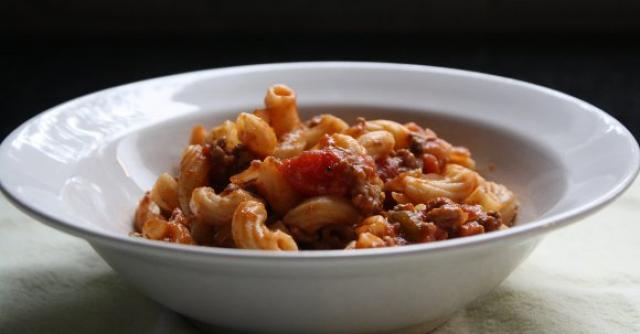 Easy Beef Goulash
Prep Time: 20 minutes   |   Cook Time: 40 minutes   |   Yield: 4-6 servings
Ingredients
1 pound ground beef
1 large onion, chopped fine
1 green pepper, diced
1 clove garlic, chopped
1 14.5-ounce can diced tomatoes
1 15-ounce can tomato sauce
1 tablespoon Worcestershire sauce
1 teaspoon salt (or more to taste)
pepper to taste
2 cups elbow macaroni
Instructions
Heat a large pan over medium heat. Brown ground beef.
Add onion and green pepper. Cook over medium heat until soft (10-15 min).
Add garlic, tomatoes, tomato sauce, Worcestershire sauce, salt and pepper to the beef mixture. Reduce heat and simmer 20 minutes.
While the beef mixture cooks, boil the macaroni al dente, drain.
Add the macaroni to the beef mixture, stir well, and simmer another 20 minutes, covered.