Cozi Tips from Cozi Families
We asked Cozi families for their favorite tricks and tips for using Cozi – here are some good ones!
Use the month pop-up to quickly jump to a date
Tap the month name at the top of your Calendar screen and a calendar view by month will pop up. You can swipe through the months to quickly select a future date – something that comes up when scheduling that next dentist appointment, a future vacation or family reunion dates.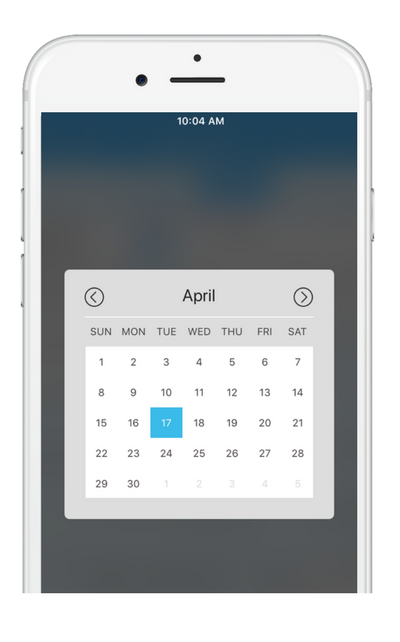 Add fun calendar feeds
"I have a 'funny holidays' iCal linked to Cozi. It brings us laughter, especially when setting up doctor appointments and we can drop a line like "oh, December 26 is Whiner's Day"
-Beth E.A.
Get the day's agenda sent to the family each morning
Wouldn't it be great if everyone in the family got sent the day's agenda each morning? Turn on Agenda Emails in Settings and they will! From your Cozi app, go to Settings and tap Agenda Emails to set Agenda Emails for each family member.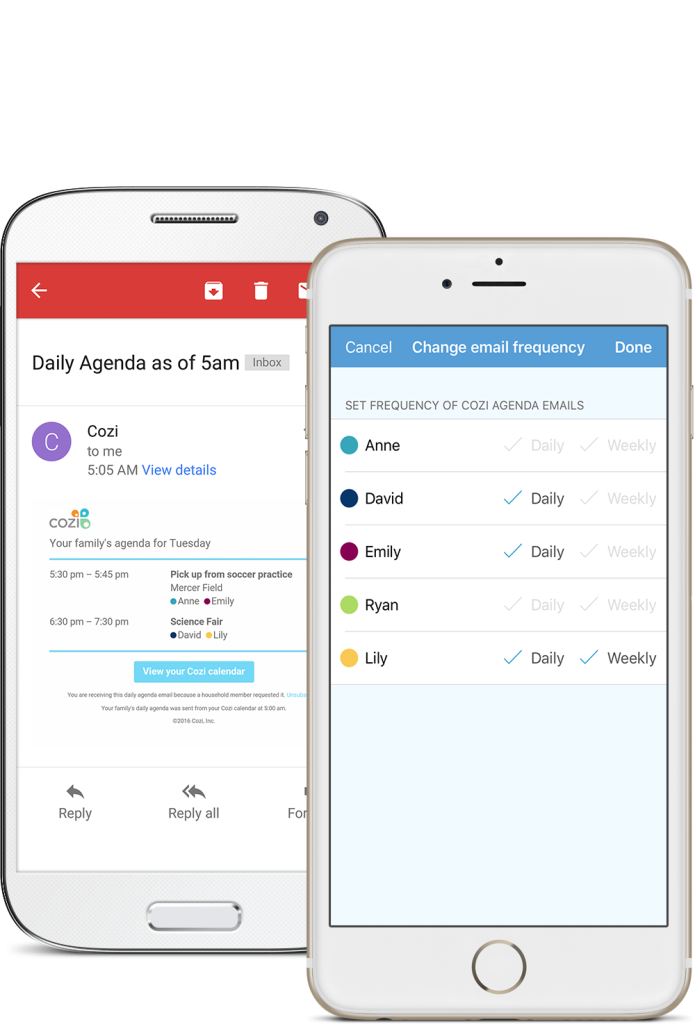 ---
Simplify calendar view using the family member feature
You can choose to view calendar events for an individual family member by tapping the family icon at the top of the screen. Some families even use this feature to view groups of related events. For example, set up a Family Member named Work, Bills, or your pet's name, and you'll be able to quickly tap on that family member and see only those appointments.
---
"I give one color to my work stuff and then another color to my personal stuff. This allows me to easily see what are work related appointments/items."
-Dori D. E.
Make sure your family is getting reminders
To get reminders on their devices, make sure each family member has the correct device user set in their Cozi app. To do this, open each person's app, go to the Family Settings, scroll down to the Device user setting, and make sure it is set to the person using the device.
Set up a tablet/iPad as your wall calendar
"We have mounted an old tablet on the wall, which is plugged in, connected to WiFi and only runs the Cozi app. This way it works like a wall-calendar but is easily updated and with one update here, the change is updated in our Cozi account on every device. Much easier than transcribing from a paper calendar."
-Anneke H
Integrate Cozi with Google Calendar, Outlook, and more
This is a great way to stay on top of things if you use other calendars. You can integrate a work calendar like Outlook, a calendar on your device like Apple Calendar, or a Google Calendar.
---
Here are instructions for adding a feed of events from other calendar to Cozi, and vice versa: Integrate other calendars with Cozi
Make the most of Mobile Month View
If you subscribe to Cozi Gold and use Month View, did you know that you can zoom in for a closer look at a day? Double tap on a day or use two fingers to expand the view. This will switch the Month View to a four-day view. From there, you can move the calendar with a single finger to view other days. To return to the month overview, just double tap the screen.
Use Calendar Search (a Cozi Gold feature) to quickly find events
"You can search past events in the calendar and Cozi finds it straight away so no scrolling or flipping through a diary. Easy to check when something happened."
-Clare C
---
Learn about Calendar Search and the surprising ways it can work for you.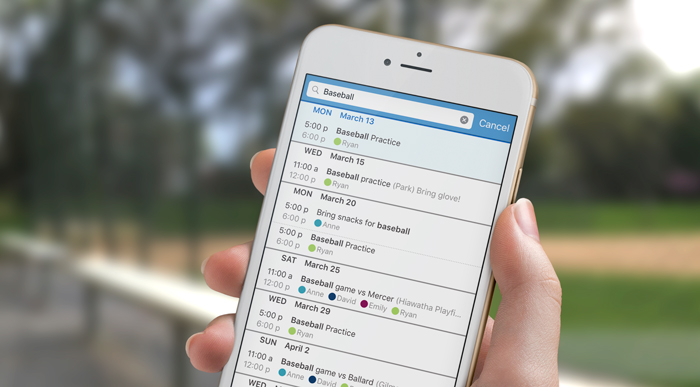 Text the Shopping List to the person going to the store
"I love being able to text my husband a shopping list. He does not use the app but likes the reminders being sent to him."
-Frieda C.D.
---
How to share a Cozi Shopping List: Go to a Shopping List and tap the three-dot icon in the top right corner. Tap Share or Email, and your available methods for sharing will pop up.
Other family members don't use Cozi? It can still work for you!
If you have family members who don't have the Cozi app or don't seem to use it, there are still ways to keep them in the know! Some ideas:
Use Cozi from your desktop
Cozi is also available from a desktop web browser. Many families like using Cozi on the web to add long lists, recipes, or lots of new events at a time.
To use Cozi on the web, sign in at my.cozi.com, check the Remember Me box, and set a bookmark from the Cozi home page. Your account will open automatically when you enter my.cozi.com in your browser going forward.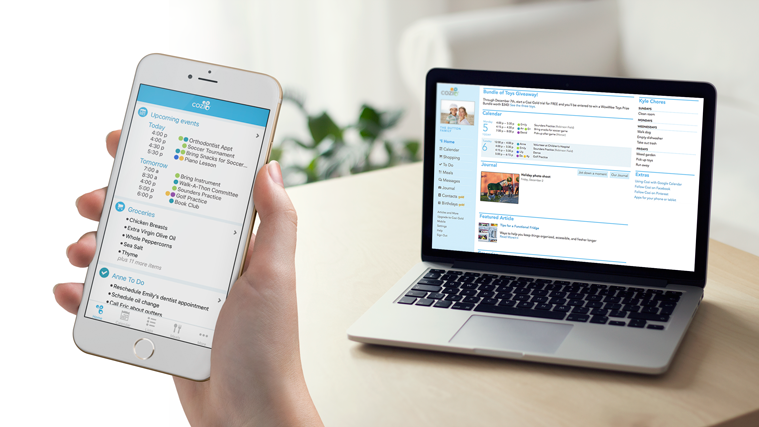 Shop in half the time with a shared list
"My husband and I have the Cozi app on our phones. When we go shopping, he starts from one end of the shop, and I from the other, we tick off items from the shopping list as we shop, so no duplication…shopping done in half the time!!!"
-Petro F. P.
Spread the chores around with Lists
"In the last month, we were traveling more days than we were home. We used Cozi to create our packing list, and then made modifications as needed. It was very helpful that my husband could start packing for the family if I was out with the kids. And then I could pick up where he left off without any hassle."
-Vanessa P. R.
One spot for everyone's wish list
Cozi Lists are a great way to track wish lists. Let your kids add to the list whenever they ask for something new, and when a relative asks or a birthday is coming up, you'll have a ready-made list of ideas!
---
"Each family member has a to-do list that is their wish list. We add to them all year long and use them for birthdays and Christmas. I email them to family using my Cozi mobile app. They include favorite candy, so helps with Easter baskets and special treats."
-Amy M
Use To Do Lists with a system
"I have To Do Lists divided as Getting Things Done suggests… errands, phone calls, online, at home, etc. When I'm out, I check the errand list, when I have some time to make a call (sitting in school car line), I look at phone call list."
-Beth N. S.
Creative uses for To Do Lists
"I keep ToDo lists for: current medicines for each family member including elderly parents, health history for each family member so that I have these on my phone wherever and whichever dr. we are at for any family member. I keep shopping lists for a "Movies" list for things I want to see, home improvement store list, hobby store list, grocery store list, christmas list, healthy snack list, clothes lists, etc."
-Anne A
Remind the kids with Cozi
"I have the reminders set up for my kids so I don't have to be the nag."
-Tricia J
Keep your device's screen clean when cooking
If you cook from recipes in your Cozi mobile app, tap the Cooking Mode icon in the upper left corner of the recipe screen so the screen won't dim or turn off. You'll never have to tap the screen with a messy finger again!
Quickly add recipes from the web
If you find a recipe that sounds good while browsing the web, you can save it quickly to your recipe box:
From a mobile device, use the share feature and pick Cozi. The share feature is typically available from the upper right hand corner on Android devices and from the bottom menu of Safari on Apple devices. You may first need to add Cozi Recipe to your list of apps available for sharing to.
From a mobile device, you can copy the URL of the recipe, open Cozi and tap + from the Recipe screen to copy the URL and save the recipe.
When browsing the web from a computer, copy the recipe URL, then sign in to your Cozi account at my.cozi.com. Navigate to Recipes, click the + ADD button, choose Add recipe from website, and paste the recipe URL.