Multiple Reminders Are Now Available for Calendar Appointments
We are happy to announce that multiple reminders are here! This is a new Cozi Gold feature and it means you can now assign up to three separate reminders for any appointment. Sweet!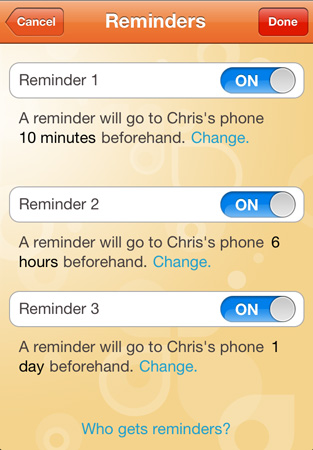 Is your mother-in-law's birthday coming up? Or your parent's anniversary? Set a reminder for two weeks ahead of time, another for a week before and another for the day of. You'll be on top of sending a card, getting flowers ordered, and making that phone call to wish her a happy birthday.
If you already have Cozi Gold, you'll see the option for multiple reminders in the edit appointment window.
Want multiple reminders but don't have Cozi Gold yet? Upgrade today! It's $19.99 per year for this and all of the other features Cozi Gold offers.
With Cozi Gold, everyone in the family gets all the features exclusive to Cozi Gold, plus an ad-free experience on every device and priority customer support.
To upgrade today, just click Cozi Gold on the left-hand menu in the web version of Cozi.

New to Cozi? It's the simple way to manage your busy family life with a shared calendar and lists that you can access from any mobile device or computer. Sign up for Cozi. It's FREE!