Introducing Calendar Change Notifications in Cozi Gold!
Many, many of you have asked for a way to notify other family members when you change an appointment (and keep track of changes that others make), and now you can! Calendar change notifications has been one of our top feature requests and we are pleased to announce that the feature is now available in Cozi Gold.
It's quick and easy to send a change notification – just select notify when you are adding, changing or deleting an appointment. No more follow up messages, phone calls or emails to the spouse and kids necessary – Cozi will take care of letting everyone know. Here's how it works:
How to notify others about changes to calendar appointments
When you are in the appointment screen/window, select the new setting: Notify of new appt or Notify of this change.
Next, select which family members to notify. NOTE: only family members with an email address or phone number entered in Cozi will be in the list to notify. And appointment attendees are checked by default.
Select Done or Save and the notification will be sent by device notification (to people who have enabled notifications from Cozi) or by email.
Notifying others about deleted appointments via the mobile apps is handled slightly differently: When you delete an appointment on mobile, you are given the choice of notifying attendees, or deleting the appointment without notifying them.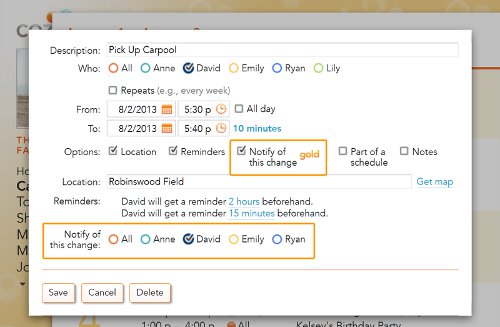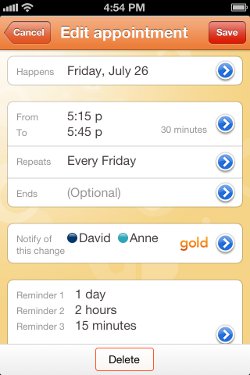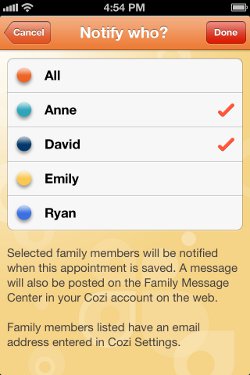 That's it! Now you can keep the family in the loop like never before.
Calendar Change Notifications is part of Cozi Gold, the premium version of Cozi which is ad-free and has more features including:
Multiple reminders for each calendar appointment
Calendar change notifications (NEW!)
Shopping Mode (NEW!)
Month view on mobile apps
Birthday Tracker
Much more!
These features are designed to make managing a busy family life easier than ever, so why not go to your account and upgrade today? If you do, you'll receive two free gifts as a thank you – exclusive Cozi swag and a free Shutterfly Photo Book!

New to Cozi? It's the simple way to manage your busy family life with a shared calendar and lists that you can access from any mobile device or computer. Sign up for Cozi. It's FREE!