2018 Holiday Gift Guide – Best Picks for Kids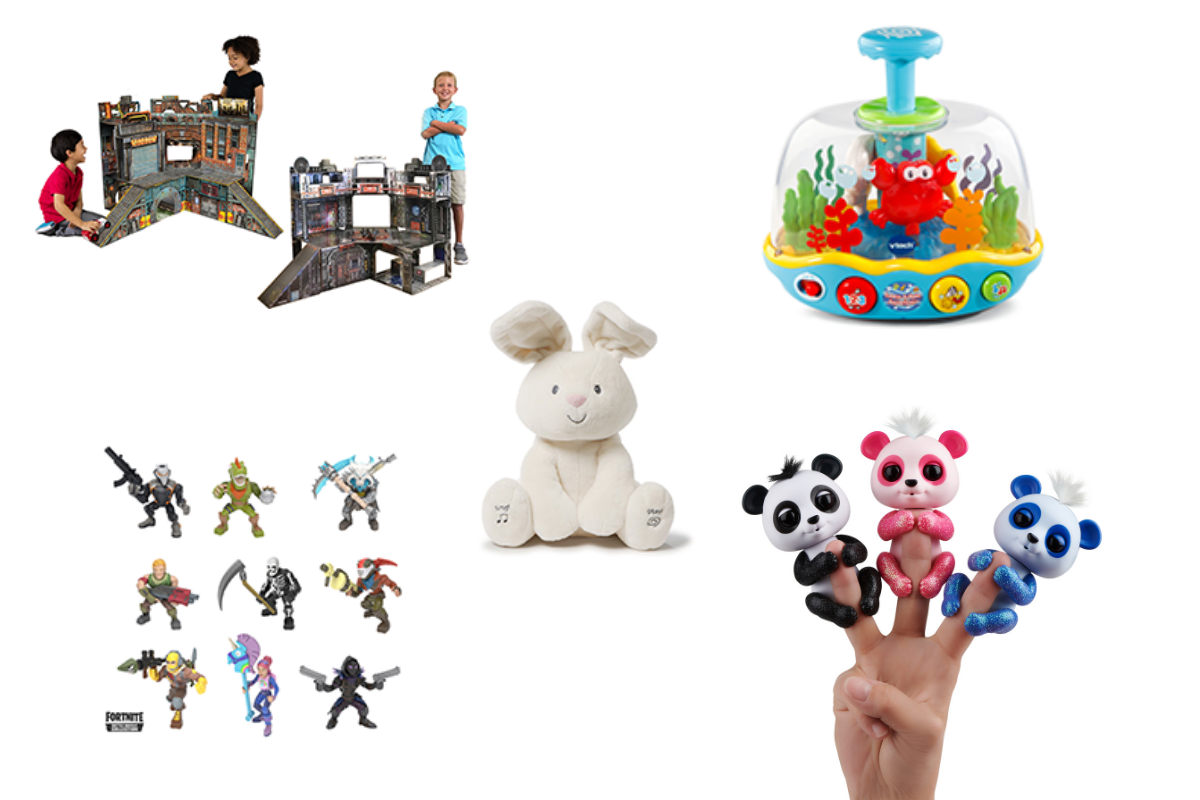 Here is Hot Diggity Media's Toy Tester Favorites of 2018, by Julie Kertes! The play experts and toy testers at Hot Diggity Media spend a good part of the year unboxing, testing and playing with hundreds of toys and games from companies across the globe. Only the best of the best receive a Hot Diggity Award seal-of-approval, based on quality, entertainment and educational value. Here's the coveted list of our absolute favorites of the year:
Baby and Toddler Gift Picks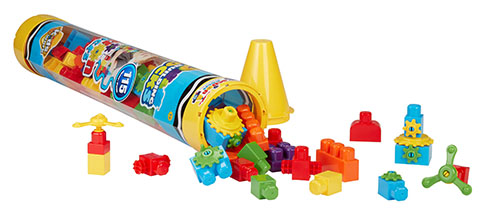 Crayola Kids@Work Action Blocks Crayon Tube by Amloid
$22.98, Amloid.com, Toddlers and Preschool
Great sized blocks for little hands that are sturdy and fit together nicely. The gears teach cause and effect and the building opportunities are endless.
---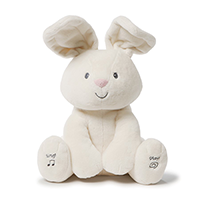 Flora Animated Plush by GUND
$39.99, Gund.com, Birth to Toddlers
Toddlers will love Flora, with her interactive peek-a-boo game and her dancing ears. She is made of a super soft plush material, which is what GUND is known for. Entertaining and adorable, and the perfect baby or toddler gift!
---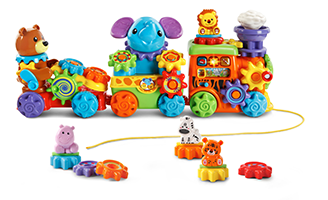 GearZooz™ GearBuddies Lion & Mouse™ by VTech
$9.99, vtechkids.com, Birth to Preschool
Anything with gears is a hit with preschoolers! This toy teaches cause and effect and fine motor skills, while entertaining with songs and phrases. It's also the perfect size to take on the road.
---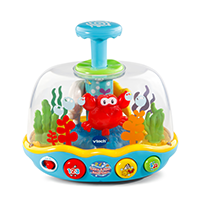 Learn & Spin Aquarium™ by VTech
$14.99, www.vtechkids.com, Birth, Toddlers, Preschool
Toddlers will love this cute aquarium with fun sounds and songs. It's packed with content and features big buttons that are easy to press and manipulate. Great for developing fine motor skills.
---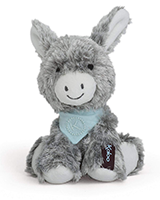 Les Amis Small Regliss the Donkey by Kaloo
$29.99, www.kaloostore.com, Birth and up
Kaloo makes the most adorable and softest plush animals and this little donkey is no exception. He comes in an elegant box that doubles as a comfy bed.
---
Preschool and Kindergarten Gift Picks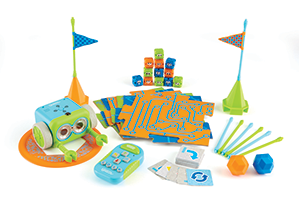 Botley™ the Coding Robot Activity Set by Learning Resources
$69, Learningresources.com, Preschool and up
Botley makes coding fun and easy for kids and their parents! So many coding kits are intimidating to parents, but not this one… no experience necessary! The different levels of play make it fun for older kids too.
---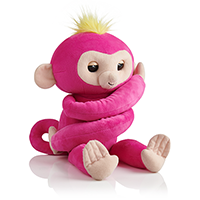 Fingerlings HUGS
$29.99, Fingerlings.com, Ages 3 and up
Life-size Fingerlings? Yes please! They'll wrap their arms around you for lots of cuddles, and then swing them around for tons of giggles! Record your voice for playback and interactive fun.
---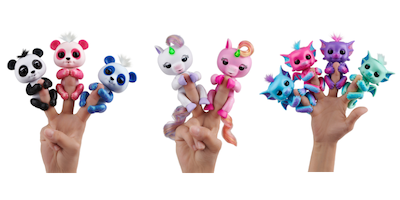 Fingerlings Light-Up Unicorns, Baby Dragons and Glitter Pandas
$14.99 – $17.99, Fingerlings.com, Ages 5 and up
Additional characters to the Fingerlings toy line include these beloved creatures: unicorns, baby dragons and pandas! All feature Fingerling technology plus an overdose of cuteness.
---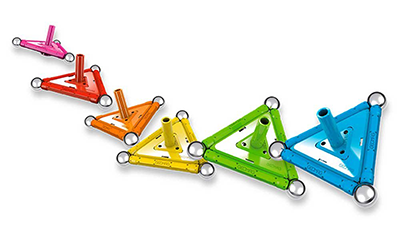 Geomag Spin 10 by Geomagworld
$5.95, geomagworld.com, Ages 3 and up
Construct a top with magnets and rods then watch it spin! Collect all six colors. Great Dzincentivedz gift, stocking stuffer or party favor.
---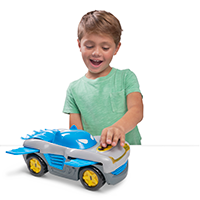 HeroDrive DC Super Friends Batman Racer by Funrise
$39.24, Funrise.com, Ages 3 and up
A Bat-mobile designed especially for preschoolers that features lights, engine sounds, and music. Push the windshield forward and wings magically appear. Sturdy and engaging for hours of imaginative play.
---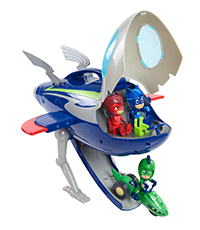 PJ Masks Super Moon Adventure HQ Rocket by Just Play
$39.99, justplayproducts.com, Preschool and up
PJ Masks fans will love this rocket! The pieces are extremely durable, and the sounds make playtime so much fun. The figurines are easy to place in the cockpit and there's so much detail on the rocket with folding wings and lights.
---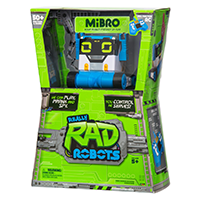 Really RAD Robots MiBro by Moose Toys
$39.99, reallyradrobots.com, Ages 5 and up
MiBro is the perfect partner for pranking and spying. Easy to operate with a straightforward remote control. Comes with serving tray, foam finger, gun, ball and net for "less mischievous" play.
---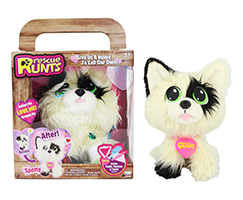 Rescue Runts by KD Kids
$19.99, rescuerunts.com, Kindergarten and up
Not only is this toy super fun, but it teaches kids a lesson that with a little TLC, something beautiful can shine through. Kids can go through the process of "beautifying" their rescue pup by removing tears, washing her paws and plucking out fleas. From scruffy to spectacular right before your eyes!
---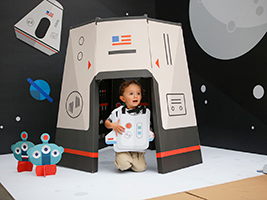 Sharingland Cardboard Playhouse Kits
$99, sharingland.com, Preschool/Kindergarten and up
The entire family can pitch in to assemble this beautifully illustrated, brightly colored playset. The sets are easy to put together and come with fun props for dress up. The materials are sturdy and all the pieces fit nicely into the box after playtime is over. Great for photo ops and birthday party fun.
---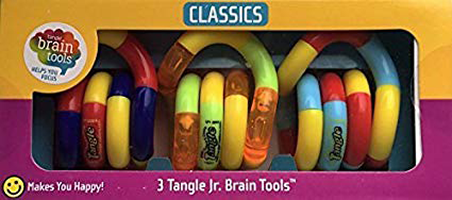 Tangle Jr. Classic
$11.99, www.tanglecreations.com, Ages 4 and up
These original fidget gadgets have been around for more than 37 years! They're hard to put down and provide hours of fun, twisting and turning.
---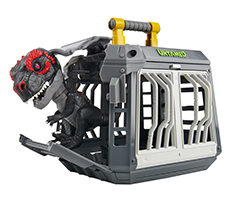 UNTAMED Jailbreak Playset w/Exclusive Dino by Fingerlings
$24.99, Fingerlings.com, Ages 5 and up
This new line from Fingerlings is fierce! This playset makes a perfect carrying case and comes with new character, Infrared whose glow-in-the-dark features, chomping jaw and sound effects are awesome! Other ferocious friends include UNTAMED T-Rex Skeleton Dinos, Doom and Gloom, AKA The Boneheads (exclusive to Walmart), four UNTAMED baby T-Rexs, UNTAMED Direwolf (exclusive to Amazon), and UNTAMED Sabretooth (exclusive to Target). All are sold separately.
---
Elementary, Tweens & Teens Gift Picks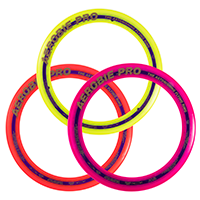 Aerobie Pro Ring™ by SwimWays Corporation
$9.99, www.aerobie.com, Elementary and up
Love the "loft" you get with this flying disc. Kids can use this as a beginner tool (or never go back). The distance and ease of throwing straight is very satisfying!
---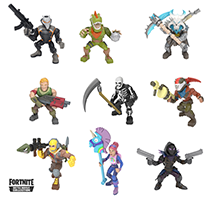 The Battle Royale Collection by Moose Toys
$4.99 – $19.99, www.moosetoys.com, Ages 8 and up
If you know a Fortnite fanatic (and who doesn't) you'll want to add these to your shopping list! This brand new line of Fortnite skins, vehicle and playsets are sure to bring this popular video game to life. 16 figures are included in this first collection, with new figures revealed each month in 2019. The two-inch figures are pose-able and come with swappable weapons and accessories.
---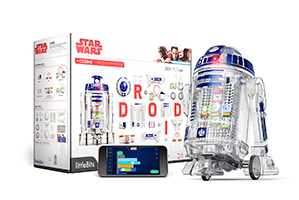 Droid Inventor Kit and up Coding by littleBits
$99.95, littlebits.com, Elementary and up
This blends two favorite STEM skills — coding, and electronics — masterfully. The build is challenging but the end result is terrific!
---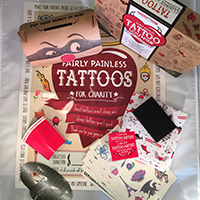 Fairly Painless Tattoo Lounge for Charity by Renegade Made
$22.95, www.renegade-made.com, Ages 8 and up
Renegade Made crafts combine street art with random acts of kindness. Each kit focuses on "anonymous altruism," teaching kids to be kind when no one's watching. This kit contains everything you need to set up a neighborhood tattoo shop tablecloth, signage and lots of temporary tattoos. Collect donations in the included moneybox then deliver to your favorite charity.
---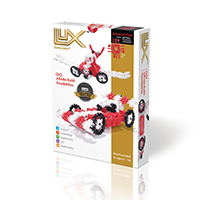 Lux Race Car / Airplane 2-In-1 Kit by Lux Blox LLC
$24.99, www.luxblox.com, Elementary and up
It's really fun to see simple connectors become a large-scale model of a car or plane. Great for builders of all ages and the end result is VERY impressive! Instructions are very well laid out and the pieces are durable and each to connect. Great activity for the entire family.
---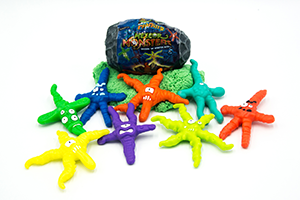 Mad Mattr Meteor Monsters by Relevant Play
$9.99, www.relevantplay.com, Elementary and up
Mad Mattr has added a collectible component to their toy line which makes for even more fun! Line the meteor with Mad Mattr dough and when it's cracked open, a surprise creature breaks loose!
---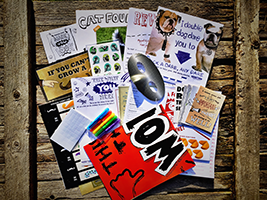 Made You Look Kit by Renegade Made
$21.99, www.renegade-made.com, Ages 8 and up
Renegade Made crafts combine street art with random acts of kindness. Each kit focuses on "anonymous altruism," teaching kids to be kind when no one's watching. Get a box of funny flyers and postcards that are sure to produce smiles and laughs in your community. The "Take What You Need" and fortune dispensing posters will get the attention of neighbors and the "Double Dog Dare" flyer will bring out the silly in everyone!
---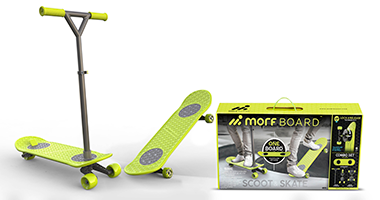 MorfBoard Skate/Scoot Combination by JAKKS Pacific
$99.99, www.morfboard.com, Elementary and up
What a great bang for your buck! You get two play experiences with this awesome board! The scooter and skateboard wheels are easy to swap out and you know it's done correctly with the audible click. The versatility of this toy will guarantee years of use.
---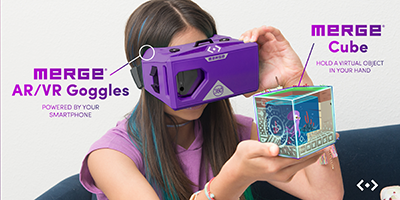 MERGE Goggles
$29.99, www.mergevr.com/goggles, Ages 10 and up
Super comfortable and adjustable virtual reality goggles made from a squishy-soft material. Just pop in your Android or iOS device and be BLOWN away! This trend in virtual reality play is just beginning.
---
MERGE Cube
$14.99, www.mergevr.com/cube, Ages 7 and up
You've got to see it to believe it! Hold the cube in your hand and explore a whole new world of holograms. A great enhancement to use with MERGE Goggles.
---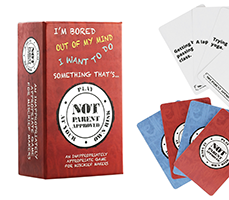 Not Parent Approved
$24.99, notparentapproved.com, Ages 8 and up
A non-digital game that tweens and teens will love. Created just for their developing minds, this game is edgy, silly and hilariously "PG" inappropriate!
---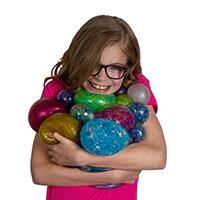 Odditeez™ Ballz by ORB
Price varies by size $3.99-$14.99, orbodditeez.com, Ages 8 and up
An awesome tactile toy on so many levels! These transparent balls are filled with Slimi, Beadiballz™, Pearlized Slimi, or Sparkle Ribbons and come in various sizes, colors and textures. Stress relieving and fun!
---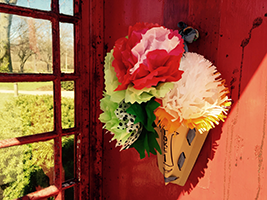 Random Acts of Flowers by Renegade Made
$20.99, www.renegade-made.com, Ages 8 and up
Renegade Made crafts combine street art with random acts of kindness. Each kit focuses on "anonymous altruism," teaching kids to be kind when no one's watching. Make 12 brightly colored paper flowers and a homemade hanging vase and then spread kindness by making them available to neighbors. Each flower has a tag that suggests paying it forward.
---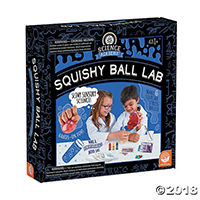 Science Academy Kits: Squishy Ball Lab by Peaceable Kingdom
$24.95, www.mindware.orientaltrading.com, Ages 8 and up
Study science and relieve stress at the same time! This kit comes with all the materials needed to make six stress balls and a mini mindfulness jar. Detailed explanations of the science behind slime, oobleck and ooze are also included and making learning fun.
---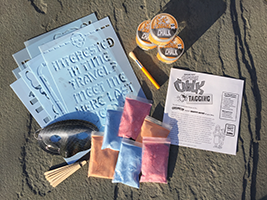 Sidewalk Chalk Tagging Kit by Renegade Made
$24.99, www.renegade-made.com, Ages 8 and up
Renegade Made crafts combine street art with random acts of kindness. Each kit focuses on "anonymous altruism," teaching kids to be kind when no one's watching. This is probably the only time that "tagging" is A-OK! This kit comes with make-at-home chalk paint, stencils and brushes – all the materials necessary to tag your neighborhood with uplifting and humorous messages like, "The best things in life aren't things," "Dance Spot" and "Make art, not your bed!"
---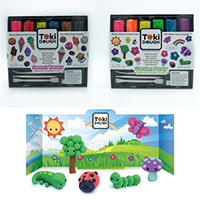 Toki Dough Bento Box by Relevant Play
$24.99, www.relevantplay.com, Elementary and up
Kids love everything miniature and "kawaii" (cute). This kit comes with bright colors and all the tools needed to create cuteness. The dough is easy to form and isn't messy at all!
---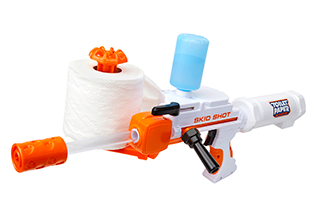 Toilet Paper Blasters™ Skid Shot™ by JAKKS Pacific
$19.99, www.jakks.com, Elementary and up
This toy is so fun you'll want to get two! TP wads go flying through the air and stick to selected targets. A nice (and cleaner) alternative to paintball guns. Surprisingly okay for indoor play.
---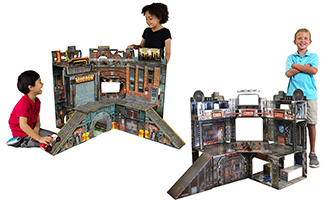 Urban 2.0 and Space Base Playset by ReadySetz
$95, readysetz.com, For all ages
A detailed set appears right before your very eyes, providing great scenery for cars, dolls, and figurines. Makes a great backdrop for stop-motion animation for future filmmakers. Easy to assemble and just as easy to fold up and store.
---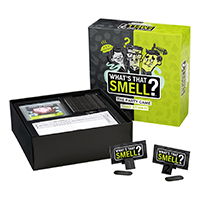 WHAT'S THAT SMELL? The Party Game That Stinks
$19.99, wowee.com, Ages 14 and up
Ew, ew… EW! Get ready to be grossed out with this party game that literally stinks! Players guess what disgusting smell their sniffing, out of 48 Mystery Whiff Cards! Enhance the fun by downloading the app and capturing reactions on the ReekCam.
---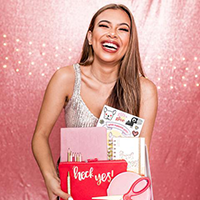 Yoobi x Adelaine Bundle: Holiday Glam
$30, yoobi.com/collections, Elementary and up
Influencer Adelaine Morin has teamed up with Yoobi on some great school supply gift bundles. For every box purchased, Yoobi will donate seven school supply items to a child in need in the U.S. The Holiday Glam bundle includes the Heck Yes Spiral Notebook and zip pouch, pencils and pens, a pink velvet journal, coin purse and more! A $40 value!
---

Cozi Family Organizer is the must-have app for busy families - easy to use and free in the app store. You'll wonder how you managed your busy life before Cozi. Get Cozi today!