3 Ways to Get the Most Out of Cozi Meals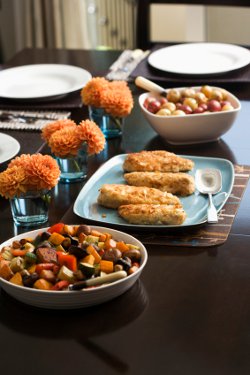 Planning meals for the week ahead is a no-brainer if you want relief from making a dinner decision at 4pm every day (the hard part is remembering to sit down and do it!). If you already plan meals in Cozi, or have been thinking of checking it out, here are three things to keep in mind:
1. Use your meal history to make future planning a snap
Sometimes I wish I could go back in time and look at the dinners I made on a random week last year, or even five years ago. I have a feeling there are dinners we've made and loved, and were maybe even go-to meals for a few months, but we've just forgotten about them!
One of my favorite things about Cozi Meals is that you can see the meals you planned on days in the past. This meal history is an incredibly useful reference. Next time you're stuck for ideas, just scroll back through your history and grab an idea you haven't made in awhile. (I've even found myself filling in meals after the fact so I keep a good record for future planning.)
To view your meal history, go to your dinner plan in Cozi Meals. Move the scroll bar up to the very top and you'll see the link "View previous days". Click that link and you'll be placed on the previous Sunday. Each time you click "View previous days" you will be taken back another week.
2. Categorize your recipes with tags
Tags can be attached to any recipe to help you find recipes of a certain type later. You might want to see all your vegetarian recipes for meatless night, see your 'good for company' recipes for the night guests are coming, or see all the meals that your 'kids love' for those nights when you aren't up for a negotiation about what's for dinner.
To tag recipes, click on "Our recipe notes" on the right hand side of any recipe. You'll see a few pre-loaded tags (family favorite, kids love, really easy, tastes amazing) and a Tags entry field where you can add a new tag like vegetarian, chicken, or slow cooker. You can add multiple tags to each recipe and each time one is added, it will appear on your note card. When you're done, click Save on the menu bar above your recipe.
Once you've added tags to your recipes, you can view all recipes with that tag by typing in the tag name in the Search box in the upper right corner.
3. Try the top 3 recipes in Cozi Picks
It's always nice to get new dinner recipe ideas, especially when they are slam dunks. These three recipes are the most popular in Cozi Picks, so chances are your family will dig them, too.
Now, if you are one of the many who want to plan meals but can't seem to remember, make an appointment now for this Sunday, over a cup of coffee, to get the weeks' meals set.

New to Cozi? It's the simple way to manage your busy family life with a shared calendar and lists that you can access from any mobile device or computer. Sign up for Cozi. It's FREE!