This recipe was created by Chef Tom Colicchio, owner of Craft restaurants and James Beard Foundation Award winner, and Chef Maria Hines, chef/owner of Tilth restaurant in Seattle and also a James Beard Award winner. Serve it with Shredded Carrot, Apple and Raisin Salad and Panna Cotta with Orange Segments.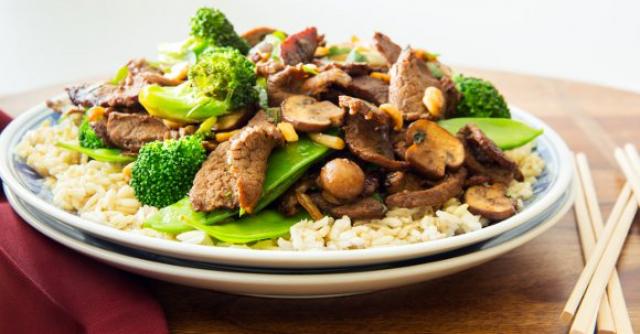 Beef and Vegetable Stir Fry
Prep Time: 20 minutes   |   Cook Time: 10 minutes   |   Yield: 6 servings
Ingredients
hot sesame oil
regular sesame oil
1 1/2 pound beef round, slice thin
1 cup broccoli florets, blanched
1 cup snow peas
1 cup button mushrooms. sliced thin
1/4 cup soy sauce
1 tablespoon oyster sauce
1 tablespoon fresh lime juice
1/2 cup green onions, sliced thin
1/2 cup peanuts
1 cup onion, sliced thin
1 tablespoon garlic, minced
1/2 cup cilantro, chopped
3 cups brown rice
Instructions
Heat hot sesame oil and regular sesame oil in a pan. Brown the sliced beef on all sides. Then add then add the remaining ingredients (except for rice) and saute until vegetables begin to soften.
Cook rice according to package directions. Typically, use 3 cups rice and 3 1/4 cups water.
Serve beef stir fry over rice.