New in Cozi: Automatic Event Notifications, Custom Notification Sound, Calendar Management
Happy new year, Cozi families! We are releasing a big app update this week with many new features and improvements. If you don't see the update available on your device yet, you will within a few days.
Check out the new Cozi notification sound!
You've asked for this new feature, and now it's here. Our distinctive new sound makes it clear that a Cozi reminder or notification just came through.
Automatic Event Notifications
When you create a new calendar event, each family member included on the event will now receive a notification letting them know about it. This is one more way Cozi will help do the job of keeping everyone informed about the schedule.

Here's how Event Notifications will work:
Attendees on a new event are notified by default when you first save the event. You may change who receives the notification by tapping Notify on the New Event screen.
The notification will arrive as an on-device notification or by email, depending on each household member's notification settings.
Family members must either have the Cozi app installed on their device or an email address entered in Family Settings in order to receive notifications from Cozi. Learn more about how to enable notifications from Cozi.
If you do not want New Event Notifications sent by default, you can turn that setting off. Learn more about how to manage Cozi Notifications
Unlike New Event Notifications, Calendar Change Notifications (sent when an update is made to an existing calendar event) is a feature of Cozi Gold. Change Notifications will also be sent automatically to attendees on the event.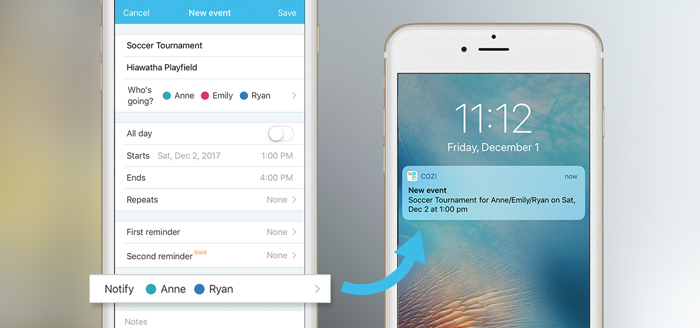 Manage calendars from your mobile app!
We've made calendar management easier than ever by allowing you to manage your calendar feeds, subscribe to holiday calendars, and add other internet calendars from your mobile device.

We hope you enjoy these new features! If you have any questions or feedback, please contact us at www.cozi.com/contact-us.