Cozi Conversations: A Professional Chef Dishes on Cozi
Welcome to Cozi Conversations, where we showcase the who, what, when and where of Cozi – by talking to all sorts of families, who use Cozi for all sorts of things, on all sorts of devices, in all sorts of places!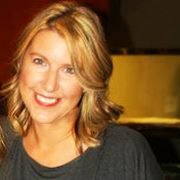 Who: Kristy Bernardo
Today, we're chatting with Kristy Bernardo, a professional chef and mom of two who also runs the fun recipe website, TheWickedNoodle.com. Kristy is consistently a Babble Top Mommy Food Blogger, has won a variety of awards for her recipes, and is a recurring guest on Let's Talk Live, a D.C. television show.
We first met Kristy about a year ago when she sent us a nice note thanking us for making a calendar app that finally worked for her family. Since then, we've been fortunate to have Kristy share some of her recipes with us – one isMexican Chicken and Brown Rice Casserole, which ended up as a top choice in our America Makes Dinner campaign, and another is Roasted Shrimp with Carrot Couscous, which is currently featured as a Cozi Family Dinner Club selection.
What Cozi features do you use most?
Cozi Gold – Calendar, Meals and Shopping List. I love my Cozi system and love that Cozi Gold is ad-free. Cozi makes it easy to keep track of my entire family's calendar, my personal chef schedule and even any blog posts I'm planning. Plus, Cozi Meals and Shopping List make getting dinner on the table every night so much easier.
Where do you access Cozi?
Laptop, iPhone and desktop. I use Cozi most often on my laptop because that's where I do most of my work. I love that I can add anything to my calendar, shopping list, meal planner and more and it automatically syncs with my phone. That way, I never have to wait until I get home to check my calendar or shopping list!
When did you start using Cozi?
About a year ago. I'm not sure exactly how long it's been since my quest to find a great calendar system ended, but I know it's been at least a year since I've been using Cozi and I've never looked back.
Before I started using Cozi, I tried Outlook, Google calendar, Hotmail calendar, several other online calendars and at least five other iPhone calendar apps, but none met my needs like Cozi does. It's still hard for me to believe that I spent all that time and money searching for a calendar system that worked when Cozi was here all along. It makes me one happy Mom!
How does Cozi make your family life better?
Cozi has absolutely streamlined my entire organizational process. I used to keep four separate calendars – FOUR! – for each member of our family. Now I only need one, not to mention it holds my lists, too! I will never be without it again, I'd be lost!
Can you tell us more about how you use Cozi Meals?
I don't know about you but one of my least favorite tasks is figuring out what dinner is going to be. Having to take into account what each member of my family enjoys, how much time I have to prepare it and even the cost involved is a task I could gladly do without.
The very first time I used the recipe box, I added the few recipes that are go-to's for my family. I also found some great recipes in Cozi Picks and added a few of those as well. (The Curry Shrimp was an instant fave!) When it's time to plan my week, all of my favorite meals are laid out there for me to add to my dinner plan calendar.
I also add tags to my recipes to make them easier to find. My most common tags are "healthy," "inexpensive" and "spicy" (I'm a spice fanatic!), but you could use main ingredients like "chicken" and "fish" or others that fit your family. Now all I have to do is search by tag and see all those recipes in a snap.
The shopping list is key. With just a few clicks, any or all of the recipes for my week can be added to it. And my shopping list is always with me from my iPhone so I can swing into the grocery store anytime! I've actually saved money because I have a plan in place – there's a lot less impulse buying when I'm armed with my shopping list.
Are there features you'd like to see added to Cozi?
I wish that there was a way to delete an entire recipe's ingredients from my list in the event that I've changed my mind after adding it. But I do love that the recipes ingredients are listed together so it is an easy step to delete them.
I love that the calendar can send me reminders, but it would be nice to be able to pick and choose on the fly if I wanted it to go to my email or my phone; occasionally I like to change that depending on what it's for.
Thanks for taking the time to chat with us, Kristy! We're so happy Cozi is helping you streamline your family life.

New to Cozi? It's the simple way to manage your busy family life with a shared calendar and lists that you can access from any mobile device or computer. Sign up for Cozi. It's FREE!