White Chicken Chili is super flavorful, and a keeper for weeknight dinner. This one is also great the next day, so it works as a make-ahead meal. Thanks to Cindy B. for sharing the recipe! She says it's great for family dinner because… the kids eat it!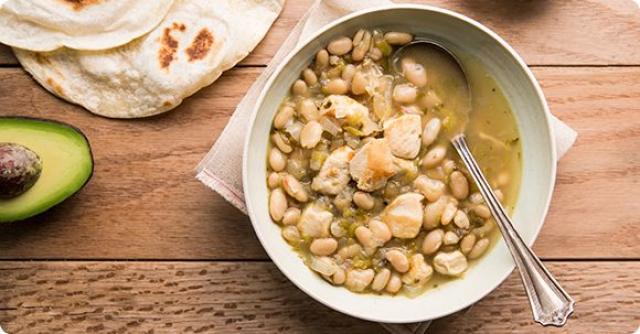 White Chicken Chili
Prep Time: 10 minutes | Cook time: 1 hour | Total time: 1 hour 10 min | Yield: 6 servings
Ingredients
Olive oil

2 cloves garlic, minced

1 large white onion, chopped

3 cups chicken breast meat, diced

2 7-ounce cans dice green chiles

1 teaspoon salt and pepper to taste

1 tablespoon dried oregano

1 tablespoon cumin

3 cans northern white beans, drained

3 14-ounce cans chicken broth

1 jalapeno, diced (if you like it hot)
Instructions
Heat the oil in a very large saucepan or soup pot. Saute the onion and garlic until onions are soft.
Add the remaining ingredients, stir, and bring to a boil. Reduce heat and simmer for one hour, stirring occasionally.
Serve with flour tortillas, sour cream, black olives and avocado.