Tuscan Soup is a simple mixture of Italian sausage, potatoes, evaporated milk and lots of spice. Add spinach or kale at the end for extra veggies.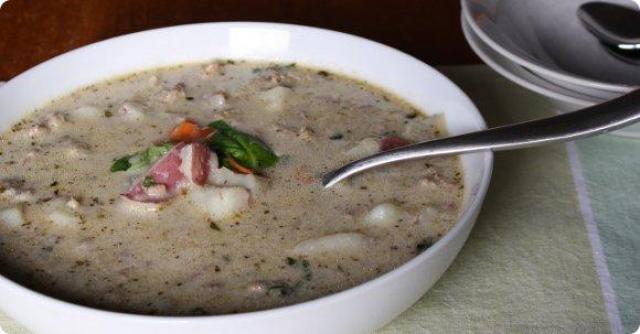 Warm-Your-Soul Tuscan Soup
Prep Time: 15 minutes | Cook time: 15 minutes | Yield: 4 servings
Ingredients
1 pound mild Italian sausage

32 oounces chicken broth

12 ounces evaporated or condensed milk (Do NOT use sweetened condensed milk.)

6-8 red potatoes, diced

1/2 large onion, chopped

2 tablespoons Italian seasoning (or a blend of dried basil, oregano, rosemary, thyme, marjoram, sage)

Salt or garlic salt to taste

Pepper to taste

optional: spinach or kale, chopped
Instructions
Cook the sausage in the same large stew pot you'll use to cook the soup, drain excess fat and return sausage to pot.
Add the chicken broth and evaporated milk and bring to a boil.
Reduce heat so soup simmers. Add potatoes, onions, seasoning, salt and pepper.
The soup is done when the potatoes are cooked through, about 20-30 minutes. If using spinach or kale, add during the last few minutes of cooking.