Wrap up broccoli, potatoes, carrots and peas in a pie crust and add cheese for a new way to serve veggies to the family. And keep this recipe on your list for meat-less night dinner ideas.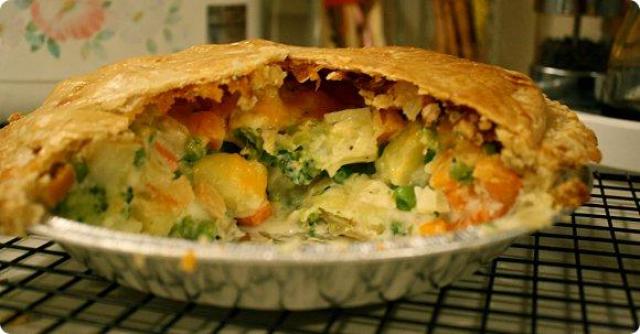 Veggie Pot Pie
Prep Time: 30 minutes | Cook time: 45 minutes | Yield: 6 servings
Ingredients
1 package pre-made pie crust (includes 2 crusts)

2-3 medium potatoes cut in 1/2-inch pieces

3-4 Tbsp butter

1/4-1/2 onion, chopped

2 carrots, diced

1/2 small head of broccoli, cut into small florets

1/2-1 cup green peas (frozen or fresh)

3 tablespoons flour

1/2 cup of milk (or more if needed)

1/2 teaspoon salt

Pepper to taste

1 pinch nutmeg (optional)

3-4 large handfuls of shredded cheese (mozzarella, cheddar, etc.)

1 beaten egg + 1 teaspoon water

Instructions
Defrost the crusts for at least 15 minutes. Preheat oven to 375 degrees.
Blanch potatoes in salted boiling water for 1-2 minutes. Drain and set aside.
Heat butter on medium high. Add onions and sauté a few minutes. Add carrots and sauté a bit more. Add broccoli and sauté a bit more and cover for a minute to release the liquid. Stir in green peas.
Sprinkle flour over vegetables and stir until flour dissolves.
Pour milk over vegetables and stir until sauce thickens. Add more milk for a thinner sauce. Stir in potatoes.
Add salt, pepper and nutmeg to taste.
Remove vegetable mixture from heat and fill crust halfway. Sprinkle with one or two handfuls of cheese. Fill crust to top with vegetable mixture and add one or two handfuls more of cheese.
Cover with second crust and pinch to seal. Poke holes in top of crust and brush with beaten egg mixture.
Bake at 375 degrees for 40-45 minutes until the crust is nice and brown.