This meal was created by Cara Eisenpress, food writer, recipe developer, blogger at Big Girls, Small Kitchen and a participant in the Meatless Monday movement, and co-author of In the Small Kitchen. This is a simple fried rice made with a medley of mushrooms, veggies and nuts.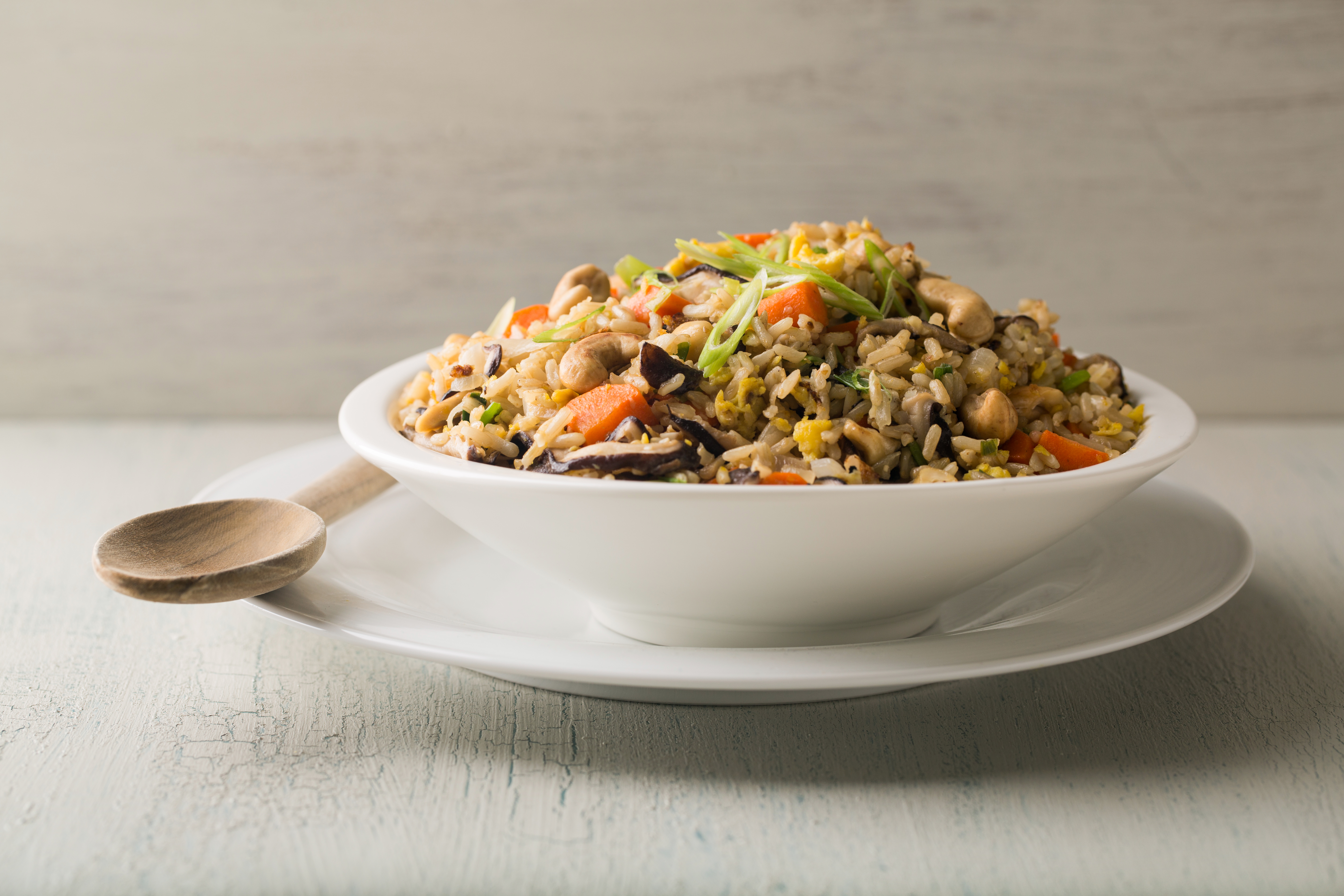 Veggie Fried Rice with Mushrooms
Prep Time: 30 minutes | Yield: 3-4 servings
Ingredients
2 tablespoons canola, vegetable, or other neutral oil

About 8 ounces shiitake mushrooms (or a mix of mushrooms), wiped clean and sliced

4 cloves garlic, minced

Salt

1 yellow onion, diced

4 scallions, white and light green parts, chopped

1 large carrot, cut in a half inch dices

1 tablespoon minced, peeled fresh ginger

3 cups cooked brown rice, cooled

1 tablespoon soy sauce

3 eggs, beaten with a 1/4 teaspoon salt

1/2 cup chopped cashews, plus a few whole cashews for garnish

Instructions
Note: This dish is best made with leftover rice. However, if you don't have any, make about 1 1/2 cups of rice according to package directions. When it's cooked, spread it out on a baking sheet and put it in the fridge to dry out and cool for at least 10 minutes. Then proceed with the recipe.
Heat 1 tablespoon oil in a nonstick wok or large pan over medium-high heat. Add the mushrooms and cook, stirring constantly until wilted and fragrant, about 2 minutes. Add half the garlic and about 1/4 teaspoon salt, then stir and cook for another 30 seconds to 1 minute. Transfer to a small bowl.
Add the other 1 tablespoon oil, swirl it around, then add the onion, scallions, and carrots and stir fry for 1-2 minutes, until softened. Add the rest of the garlic and the ginger, and stir-fry for another minute or two until fragrant. Sprinkle in another 1/4 teaspoon of salt.
Add the rice and toss it around, so it gets incorporated into the veggies and some parts get a bit brown and crispy. Add the soy sauce, and toss to distribute. Mix in the mushrooms.
Push the whole mixture over to one half of the pan and pour in the eggs. Let them cook for a minute, then use a spatula to pull the eggs in, scrambling them into large pieces. Continue to cook and scramble until they're fully cooked, then toss the eggs together with the rice. Add the cashews and toss.
Scoop into bowls, garnish with a few cashews, and eat immediately.