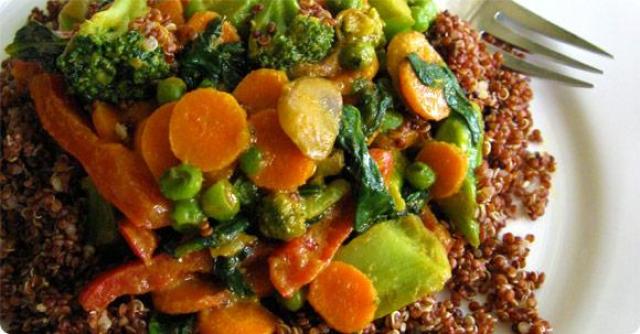 Vegetable Curry with Quinoa
Prep Time: 30 minutes | Yield: 6 servings
Ingredients
1 cup quinoa

2-3 tablespoons cooking oil

2-3 cups vegetables, fresh or frozen, suggested vegetables: canned chickpeas (drained and rinsed), slice onions, fresh spinach, frozen green peas, diced cauliflower, thinly sliced carrots

3/4 cup Yellow Thai Curry sauce

Instructions
Prepare quinoa according to package directions. Set aside.
Heat oil in large skillet and saute onion over medium heat for 3-5 minutes or until onions begin to soften.
If using hard, raw vegetables like carrots or cauliflower, add them next and saute until just softened (3-5 minutes).
If using frozen vegetables, saute for 3-5 minutes until full defrosted and warmed through.
Add chickpaes (if using) and stir until warmed through.
Add the sauce and bring the curry to a simmer.
Serve over quinoa or rice.