A simple but flavorful one-pot meal. Ready in minutes! As a variation, add any steamed vegetables such as broccoli or carrots. Add hot red pepper flakes for extra kick. Thanks to Theresa for sharing her recipe!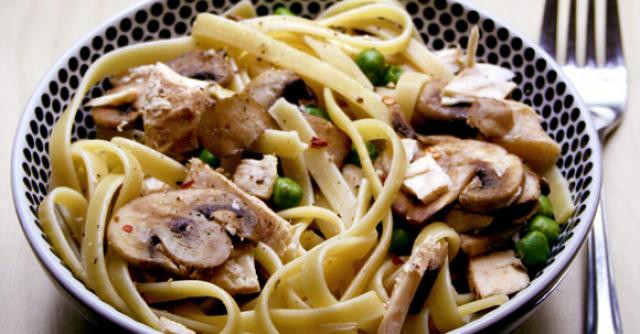 Tuna OMG
Prep Time: 20 minutes | Cook Time: 10–15 minutes | Total Time: 30–35 minutes | Yield: 4 servings
Ingredients
1 package (16 oz) flat noodles

4-7 tablespoons butter or olive oil

8-12 ounces mushrooms: button, shiitake, oyster, crimini, or baby bella

1 package (4 1/2 ounces) lemon and pepper tuna (or any tuna packed in olive oil)
Instructions
Cook noodles according to package directions.
Drain and set aside.
Meanwhile, saute the mushrooms in butter and olive oil over medium-high heat until soft (3-5 minutes).
Toss the tuna, mushrooms and noodles together and serve immediately.