Tex-Mex Chicken is one of our most popular recipes. Especially because the slow cooker does most of the work! Thanks to Kim Holland for sharing her recipe. Here's what she had to say about why this dish is so great:
"This is the easiest chicken recipe I have! My kids love the chicken tacos we make with this. Leftovers are good heated or cold. I have even frozen half the recipe for use a couple week later."

Get this recipe on your mobile device! Cozi, the must-have calendar and organizing app for families, has this recipe, plus many more easy weeknight dinner ideas. Find Cozi in the app store, or sign up on the web. It's free!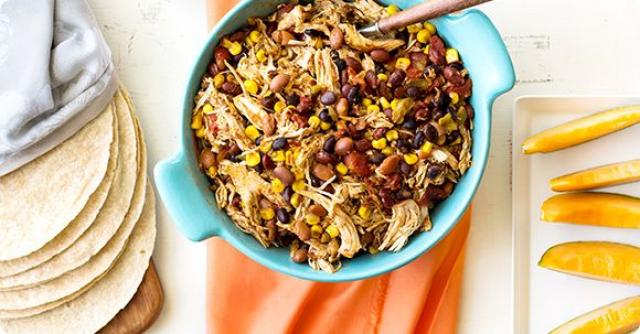 Tex-Mex Slow Cooker Chicken
Prep Time: 10 minutes | Cook Time: 6-8 hours | Yield: 12 servings
Ingredients
4-5 boneless, skinless chicken breasts

2 packets taco seasoning

1 8-ounce can green chilies

1 15-ounce can fire-roasted diced tomatoes, not drained

1 15-ounce can mexicorn or canned corn, drained

1 15-ounce can black beans, rinsed and drained

1 15-ounce can pinto beans, rinsed and drained

1 15-ounce can red beans, rinsed and drained

Instructions
Layer ingredients in a crock pot in the order given. Empty one packet of taco seasoning directly onto the chicken and add the second packet after all the remaining ingredients have been added.
Cook on low 6-8 hours.
Stir, shredding chicken as you mix ingredients.
Serve with: tortillas (try whole wheat), salsa, guacamole, and sliced fruit as a side dish.