An easy vegetarian dinner meal made with carrots, zucchini, tomatoes, onions and teriyaki sauce served over rice.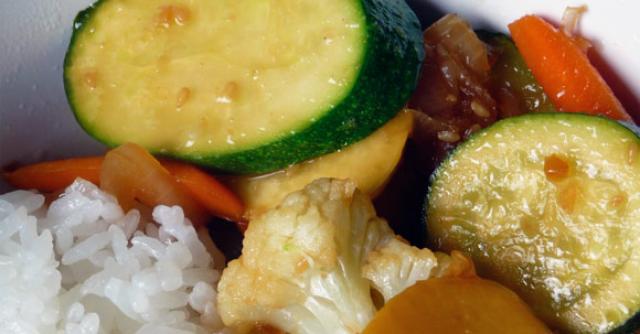 Teriyaki Vegetables
Prep Time: 20 minutes | Yield: 3 servings
Ingredients
2-3 cups white rice

3-4 tablespoons canola oil

1/2 medium onion, thinly sliced

2 large carrots, julienned

4 medium zucchini, sliced or diced

1 jar teriyaki sauce

salt

pepper

optional: 1 tomato, chopped
Instructions
Cook rice according to package directions.
Meanwhile, heat oil in large skillet and saute onion until softened slightly, about 2 minutes.
Add carrots and saute another 2 minutes.
Add zucchini and saute another 2 minutes.
Add tomato and saute another 2 minutes.
Add 1/2 – 3/4 cup teriyaki sauce to taste, stir to coat all vegetables and warm through.
Add salt and pepper to taste. Serve over hot rice.