Here is a nice chili made with ground turkey, beans, tomatoes and the usual chili spices. Serve this protein-packed recipe when you need a hearty family dinner meal.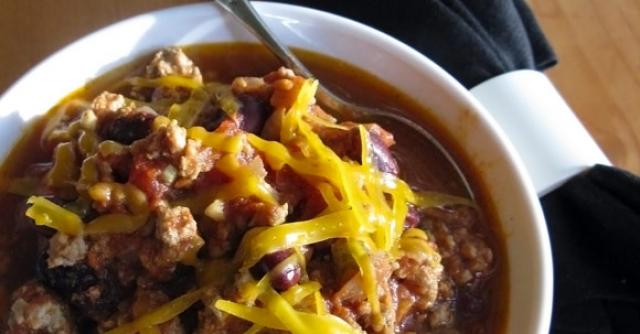 Sweet Turkey Chili
Prep Time: 20 minutes | Cook Time: 45 minutes | Yield: 6 servings
Ingredients
2 tablespoons vegetable oil

1/2 cup chopped onion

1 clove garlic, minced

2 tablespoons finely chopped green pepper

1 pound ground turkey

3 tablespoons yellow mustard

1 teaspoon salt

2 tablespoons chili powder

1 tablespoon cumin

1 large can (28 ounces) diced tomatoes, not drained


1 can (15.5 ounces) cannellini beans

1 can (16 ounces) kidney beans

optional: grated Parmesan cheese
Instructions
Heat oil in a large, heavy saucepan.
Add onions, garlic and green pepper and saute over medium-high heat until softened.
Add ground turkey, cooking until brown.
Stir in remaining ingredients.
Cover and simmer for 45 minutes. You may need to add a small amount of water to adjust the thickness, especially if you decide to drain and rinse the beans to decrease the sodium.