If you've never made your own spaghetti and meatballs, this is a delicious recipe, and the slow cooker takes care of the long simmer for you.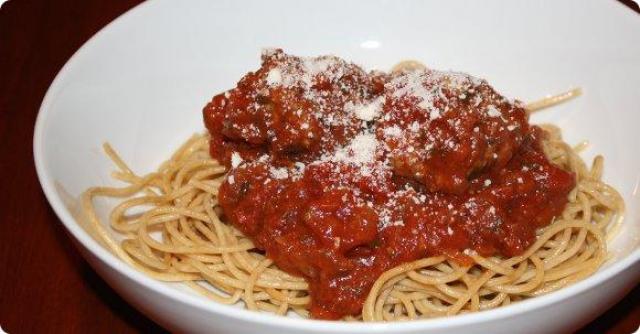 Slow Cooker Spaghetti Sauce with Meatballs
Prep Time: 40 minutes | Cook Time: 5-6 hours | Yield: 6 servings
Ingredients
SAUCE:

2 tablespoons olive oil

1 large onion, finely chopped

3 cloves garlic, minced

1 28 ounce can diced tomatoes with juice

1 15 ounce can tomato sauce

1 6 ounce can tomato paste

1 teaspoon salt

fresh ground black pepper to taste

2 tablespoons fresh chopped basil

2 teaspoons dried oregano

1 bay leaf

3 tablespoons fresh chopped parsley

MEATBALLS:

1 1/2 pound ground meat (ground beef, pork, turkey, or a combination)

1 cup dry bread crumbs

2 large eggs

1/4 cup grated Parmesan chese

1 teaspoon salt

1 tablespoon fresh chopped basil

1 teaspoon dried oregano

1/4 cup fresh chopped parsley

1 tablespoon olive oil
Instructions
Heat olive oil in a skillet over medium heat. Add onions and garlic and saute about 5 minutes. Transfer to slow cooker and add the remaining sauce ingredients. Cover and turn on high while you make the meatballs.
In a large bowl, add all meatball ingredients except the olive oil. Gently combine the mixture with a fork or your hands. Form mixture into 1 1/2 inch balls. Heat olive oil in a nonstick pan over medium heat. Add meatballs (as many as fit – you may have to cook in batches) and brown lightly on all sides.
Add meatballs to sauce in the slow cooker and stir to cover meatballs with sauce. Cook on low for 5-6 hours. Remove bay leaf and serve over penne pasta or your favorite noodles.