Balsamic vinegar, onions and beer produce delicious flavors while the slow cooker tenderizes the meat perfectly.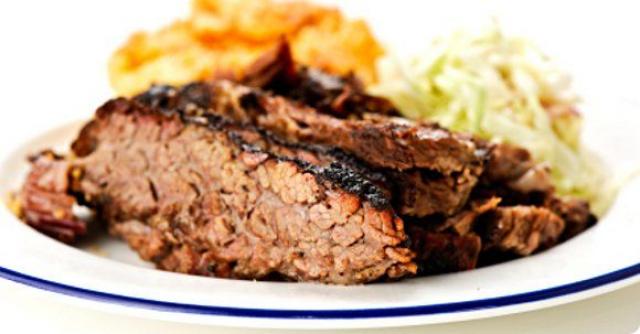 Slow Cooker Beef Brisket with Balsamic Onions
Prep Time: 25 minutes | Cook Time: 8 hours | Yield: 8-10 servings
Ingredients
3 pounds beef brisket, trimmed of most visible fat (butcher can do this for you)

1 tablespoon olive oil or vegetable oil

Salt and pepper

1 large onion

3 cloves garlic, minced

2 bay leaves

1 tablespoon (or cube) bouillon

12 ounces beer (regular or light lager is best – nothing fancy or dark)

1 tablespoon balsamic vinegar
Instructions
Heat oil in a heavy pan over medium-high heat. Pat the brisket dry on both sides and sprinkle with salt and pepper. Brown on both sides (about 7 minutes per side) then remove from pan and set aside.
Turn heat down to medium. Add onions, garlic and bay leaves to pan and saute until soft, about 5 minutes.
Meanwhile, stir together the bouillon, beer and balsamic vinegar in a small bowl until the bouillon dissolves.
Place onion mixture in the slow cooker. Place brisket on top of onion mixture and pour the balsamic mixture over top.
Cover and cook on low for 8 hours or until fork tender. Discard bay leaves and serve with sauce.