A sweet take on pork chops that is quick and easy to prepare. Pork chops get baked with a glaze of soy sauce, ginger, pineapple and brown sugar. For thicker sauce, drain more of the pineapple juice before combining with other ingredients. You can also put the pork under the broiler briefly to make it crispier.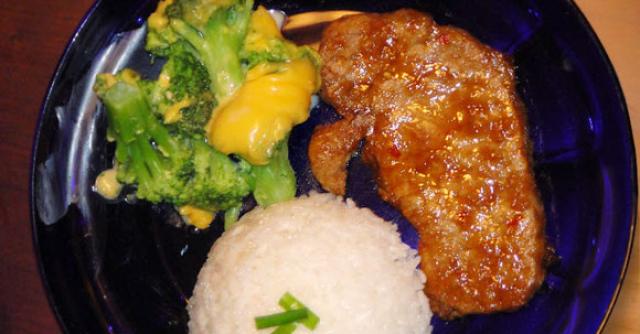 Pineapple Pork Chops
Prep Time: 10 minutes | Cook Time: 25 minutes | Yield: 4 servings
Ingredients
non-stick cooking spray

1-1 1/4 pound pork chops

1/4 cup reduced-sodium soy sauce

1 tablespoon brown sugar

1 teaspoon minced ginger

1/2 teaspoon crushed red pepper flakes

1 can (8 ounces) crushed pineapple, partially drained
Instructions
Preheat oven to 400 degrees F. Spray a baking dish with non-stick cooking spray.
Place pork in baking dish in a single layer.
In a bowl, combine soy sauce with brown sugar, ginger, red pepper and pineapple.
Pour over pork chops.
Bake uncovered for 25 minutes, basting frequently.