The kid taste-test panel loved these, and the easy preparation makes home-made chicken tenders a breeze. Instead of baking, you can fry the tenders for moister chicken.

Get this recipe on your mobile device! Cozi, the must-have calendar and organizing app for families, has this recipe, plus many more easy weeknight dinner ideas. Find Cozi in the app store, or sign up on the web. It's free!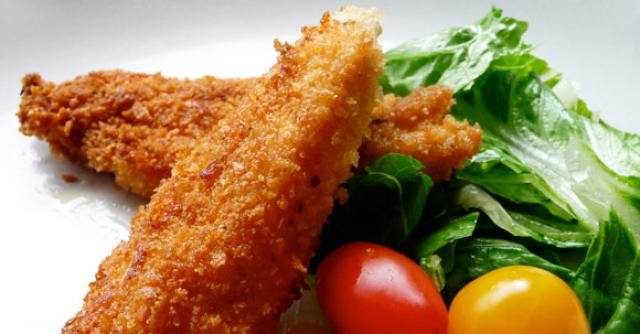 Panko Parmesan Chicken Tenders
Prep Time: 15 minutes   |   Cook Time: 25 minutes   |   Yield: 4 servings
Ingredients
non-stick cooking spray
1 large egg
1/2 cup Panko bread crumbs
1/4 cup grated Parmesan cheese
dried parsley flakes
1 package chicken tenders (sliced, boneless chicken breasts or tenders)
salt
optional: honey for dipping
Instructions
Preheat oven to 400 degrees F.
Spray a broiled pan with non-stick cooking spray.
Beat egg in a shallow dish.
Combine bread crumbs, cheese, parsley and salt in another shallow dish.
Dredge chicken tenders in egg, then in bread crumb mixture to coat.
Arrange tenders on broiled pan and baked 20-30 minutes.
Serve with honey for dipping, if desired.