An easy dinner recipe for a delicious Japanese-style meal. You'll need chicken, eggs, soy sauce, mirin, onion, green onions, dashi or fish sauce, and rice. If you don't have Dashi soup stock, you can make it by boiling 1 1/2 cups water and adding 1 teaspoon of Thai fish sauce.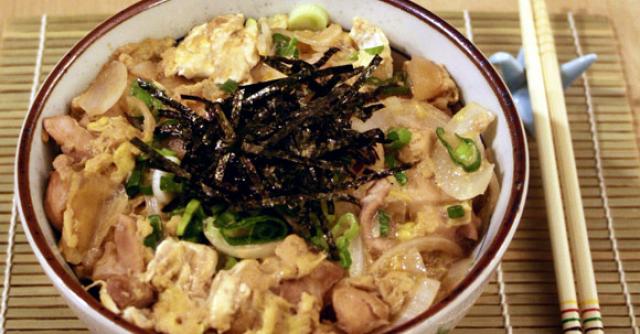 Oyakodon
Prep Time: 30 minutes | Cook Time: 25 minutes | Yield: 2 servings
Ingredients
1 1/2 cups Japanese fish soup stock (dashi)

4 tablespoon soy sauce

3 tablespoon mirin

3 tablespoon sugar

1/2 pound uncooked chicken thighs or breasts, cut into bite-sized pieces

1/2 onion, thinly sliced

3 eggs

1/4 cup chopped green onions

2 cups hot steamed rice
Instructions
Heat dashi soup stock in medium saucepan.
Add soy sauce, mirin and sugar.
Add chicken and simmer over low heat for a few minutes.
Add onion slices and simmer for a few more minutes.
Whisk eggs in a medium bowl.
Bring the soup to a full boil, add the eggs and sprinkle green onions on top.
Cover and reduce heat to low for 1 minute or until egg is cooked through. Remove from heat.
Serve in deep bowls over steamed rice.