This recipe was created by Kristy Bernardo, personal chef and creator of The Wicked Noodle. This is one of her go-to meals because it's easy, healthy and makes enough for company or a second dinner from leftovers.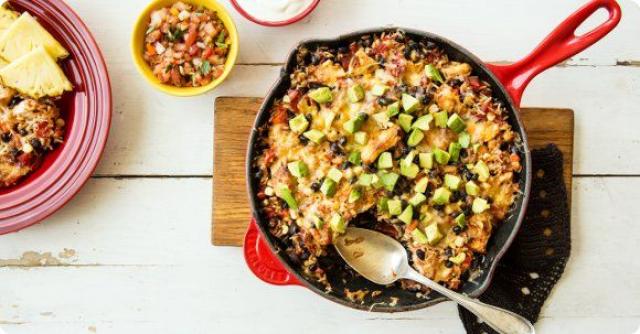 Mexican Chicken and Brown Rice Casserole
Yield: 6-8 servings
Ingredients
1 tablespoon canola oil

1 small onion, chopped

1 clove garlic, minced

1 1/2 – 2 pounds boneless, skinless chicken breast, cut into bite-sized pieces

1/2 teaspoon cumin

1/2 teaspoon chipotle chile powder (can use regular chile powder)

1/2 red bell pepper, diced

corn kernels from 2 ears of fresh corn (or one can of corn, drained)

1 14.5 can diced tomatoes, undrained (preferably fire-roasted)

1 14.5 ounce can of black beans, rinsed and drained

2 cups cooked brown rice (or one package cooked, prepared brown rice)

1 cup Mexican-blend or cheddar shredded cheese

1 avocado, diced

optional toppings: salsa and sour cream

serve with: fresh pineapple
Instructions
Preheat oven to 375F.
Heat oil in a large oven-proof skillet* over medium heat. Add onion and garlic, saute two minutes and then transfer to a large bowl.
Add chicken breast to skillet and cook until lightly browned on all sides. Stir in cumin and chile powder and cook one additional minute, remove from heat and add the contents of the skillet to the bowl containing onions and garlic.
Add bell pepper, corn, tomatoes, black beans, and rice to the bowl; mix thoroughly. Return the mixture to the skillet and sprinkle top with shredded cheese.
Bake directly in skillet* for 20-25 minutes, until heated through and cheese is melted.
Remove from oven and top. with diced avocado. Serve with salsa and/or sour cream.
*If you don't have an oven-proof skillet, transfer mixture to 9×13 baking dish for baking.