This dinner meal is an easy tilapia dish that cooks in under two hours in the slow cooker. It goes great with a side of baked potatoes.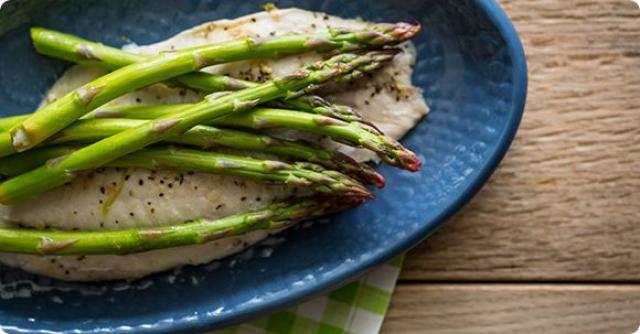 Lemon Pepper Tilapia with Asparagus
Prep Time: 15 minutes | Cook Time: 2 hours | Yield: 4-6 servings
Ingredients
1 bundle asparagus

4-6 tilapia filets, frozen or thawed

8-12 tablespoons lemon juice (juice from 1/2 lemon for each filet)

lemon pepper seasoning

2-3 tablespoons butter (1/2 tablespoon for each filet)
Instructions
Rinse asparagus spears in cold water and break off ends, about 3/4 of the way down. They should snap naturally when bent. Divide the asparagus into equal amounts per filet.
You will need a piece of foil per filet. Place one filet in the middle of foil and season with lemon pepper seasoning (approximately 1 teaspoon) and add half the juice of 1 lemon (approximately 1-2 tablespoons), then add half tablespoon of butter.
Top filet with the divided asparagus.
Fold the sides of the foil over the fish and then fold the ends of the foil to form a packet. Your fish and asparagus should be completely wrapped up in the foil.
Repeat the process until the fish filets and asparagus are all wrapped in individual foil packets.
Place packets in the slow cooker (it's okay if they are stacked on top of each other). Cover and cook on HIGH for 1 1/2 – 2 hours if fish is thawed or cook on HIGH for 2 1/2 – 3 hours if fish is frozen.