This extremely simple but delicious lemon butter chicken is perfect for nights when you want an easy chicken dish, but haven't planned ahead with a marinade.

Get this recipe on your mobile device! Cozi, the must-have calendar and organizing app for families, has this recipe, plus many more easy weeknight dinner ideas. Find Cozi in the app store, or sign up on the web. It's free!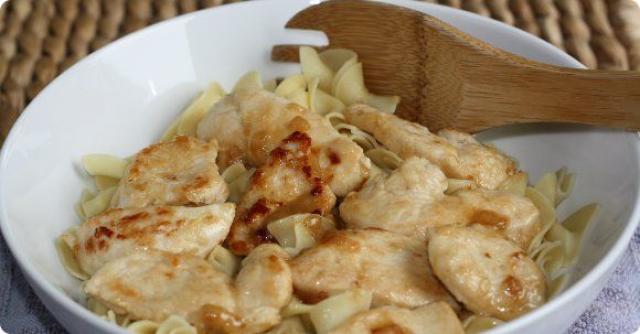 Lemon Butter Chicken with Noodles
Prep Time: 20 minutes | Yield: 4-6 servings
Ingredients
4 chicken breast halves, skinned and boned

1/3 cup flour

4-6 tablespoons butter, divided

2 tablespoons finely chopped onion

1 cup chicken broth

3 tablespoons fresh lemon juice

1 package egg noodles
Instructions
Slice chicken crosswise into narrow strips. Coat strips lightly with flour.
Heat a large saute pan over medium-high heat and add 2-3 tablespoons butter. When butter is melted, add the chicken strips and cook, stirring frequently, until cooked through, 3-5 minutes.
Meanwhile, cook egg noodles according to package directions, drain and lightly butter.
Remove the chicken to a dish. Add onion to the pan and cook until soft, about 1 to 2 minutes.
Add chicken broth to pan and bring to a boil. Add lemon juice and boil until mixture is reduced to about 1/3 cup (4 to 5 minutes).
Remove from heat and add remaining 2-3 tablespoons butter.
Return chicken to pan and heat through. Serve with egg noodles and a side of leafy greens or steamed veggies.