An easy lasagna recipe you can make ahead of time. This one uses spinach, but you can substitute other veggies like broccoli, mushrooms or zucchini, just make sure you drain all water before adding.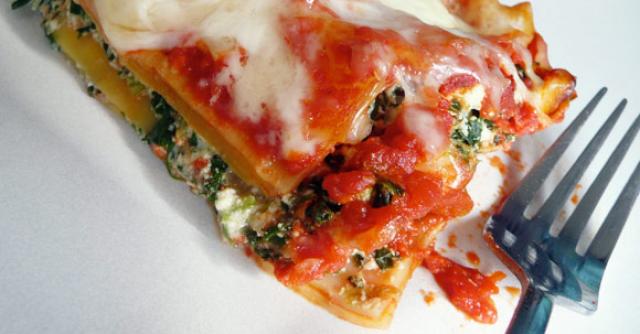 Lazy Lasagna
Prep Time: 30 minutes | Cook Time: 50 minutes | Yield: 6 servings
Ingredients
2 cups frozen spinach, thawed

1 pound Italian sausage, cut into small pieces

1 jar (24 ounces) spaghetti sauce

1 package no-boil lasagna noodles

1 pound sliced or grated provolone or mozzarella cheese

grated Parmesan cheese
Instructions
Preheat oven to 350 degrees F.
Squeeze excess moisture from spinach and set aside.
Fry sausage in a shallow pan and set aside.
Layer in order: half the sauce, half the noodle, half the sausage, half the spinach, half the cheese. Overlap the noodles slightly so you have 5-6 noodles per layer.
Layer the remaining sauce, noodles, sausage, spinach and cheese.
Sprinkle desired amount of Parmesan on top.
Cover with foil and bake for 50 minutes. Remove foil and bake 10 more minutes.
Remove from oven, let set for 10 minutes and serve.