This recipe was created by Washington D.C. chef Alli Sosna. For this family dinner recipe, she created an easy slow cooker chicken taco that the kids can help make.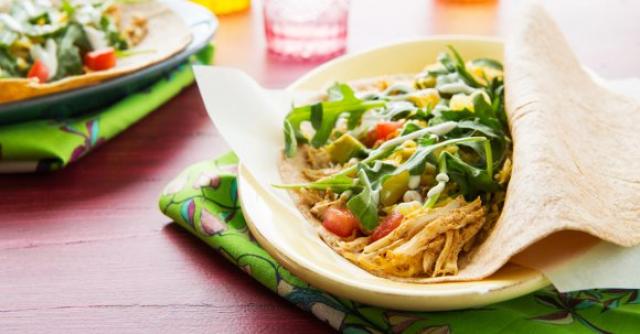 Kid Powered Chicken Tacos
Yield: 4 servings
Ingredients
1 pound chicken meat (thighs, breast, cheapest cuts will work great)

1 cup chicken broth

2 tablespoons chili powder

1 teaspoon cumin

1 teaspoon coriander

cayenne pepper, to taste

salt, to taste

green onion chopped

Wheat tortillas

TOPPINGS

1 cup shredded cheddar cheese, have kids shred it!

4 cup chopped pineapple

1 avocado, chopped

1 tomato, chopped

3 cups of baby arugula
Instructions
Cut fat from chicken and add chicken to crock pot. Pour in chicken broth.
Mix chili powder, cumin, coriander, cayenne pepper, and salt. Add to crock pot and mix well. Let cook in crock pot while you're at work – cook on low for 5-7 hours
Remove the chicken and pull with two forks.
Pour broth from the slow cooker into a sauce pan. Bring to a boil on high, add onions, and cook on medium heat for 5-10 minutes to reduce. Stir occasionally. Salt and pepper to taste.
Place the chicken back in the crock pot on warm. Salt to taste.
Pour broth over the pulled chicken. Have kids smell the pot :).
Let the kids mix the bowl of chicken and serve in warm tortillas. Let them portion out all the goodies (cheese, pineapple, tomatoes, yogurt, avocado, arugula) to the folks at the table.