Make homemade vegetable soup for your own family in less time than you think. It's even better the second day so prepare it a day or two ahead for a super-quick meal.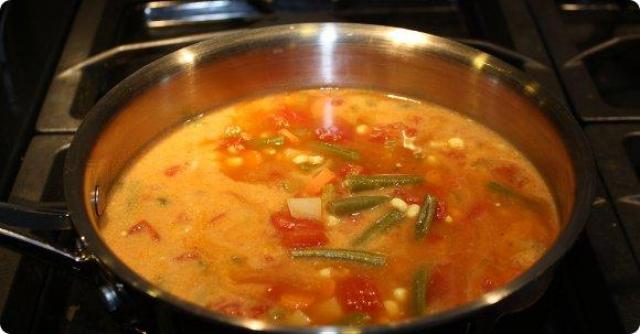 Homemade Vegetable Soup
Prep Time: 15 minutes | Cook Time: 30 minutes | Yield: 6 servings
Ingredients
2 tablespoons olive oil

1 large onion, chopped fine

2 stalks celery, diced

1 clove garlic

3 cups vegetable broth (or chicken broth)

1 cup water

1 (14.5 ounces) can diced tomatoes, with juice

2 carrots, sliced

1 large potato, diced

1 cup chopped fresh green beans

1 cup fresh corn kernels (can use frozen corn)

salt and pepper to taste

optional: 1/4 cup heavy whipping cream, 1 tablespoon lemon juice
Instructions
In a large soup pot, heat the olive oil, add onion and celery, and saute until soft but not browned, about 5-10 minutes. Add garlic and cook two minutes more.
Add the broth, water, tomatoes, carrots, potato, green beans and corn. Season with salt and pepper
Bring to a boil, then lower heat and simmer for 20-30 minutes, or until vegetables are soft.
Stir in cream and lemon juice, if using.
Serve with crackers or bread.