Grilled flank steak salad combines delicious grilled meat with a healthy salad. And if the kids won't go for a salad, this meal is easily separated into plain old meat and veggies.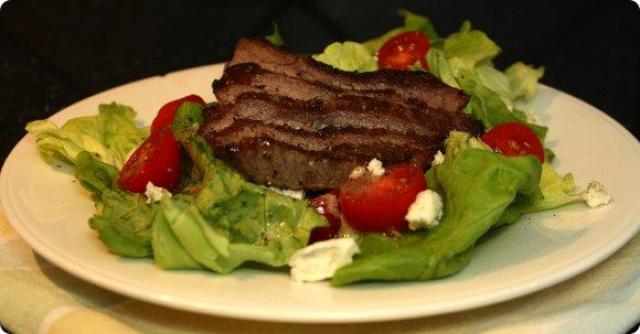 Grilled Flank Steak Salad
Prep Time: 15 minutes | Cook time: 15 minutes | Yield: 4 servings
Ingredients
1 head butter lettuce (or your favorite salad greens)

8 ounces grape tomatoes, cut in halves or thirds

3-4 ounces blue cheese

1 pound flank steak

1/2 cup soy sauce

2 tablespoons brown sugar

2 tablespoons lemon juice

2 tablespoons olive oil

2 cloves garlic, minced

1 teaspoon ground ginger

1/2 teaspoon black pepper

2 tablespoons lemon juice

2 teaspoons dijon mustard

2 teaspoons shallot, minced

1/4 teaspoon salt

5 tablespoons olive oil
Instructions
Combine marinade ingredients. Place the flank steak in a shallow bowl or ziploc bag and pour in marinade. Marinate for several hours or overnight.
Grill flank steak over medium high heat for 7-8 minutes per side. (Flank steak is best when cooked medium rare.) Let rest 5 minutes and slice across the grain into thin slices.
While steak is grilling, wash lettuce and pat dry. Top with tomatoes and crumbled blue cheese.
Whisk together dressing ingredients, toss with salad, and top with flank steak.