A nice mixture of ginger, scallions, cilantro and peanut to spice up the chicken dinner. Add more fresh vegetables if you like, and you can even use leftover chicken.
From the author, Jody: "My girls love this and it's easy to add fresh veggies: sugar-snap peas, broccoli, carrots, etc. And it's simple to make if you chicken earlier in the week. Just make extra for this recipe and cut out a step."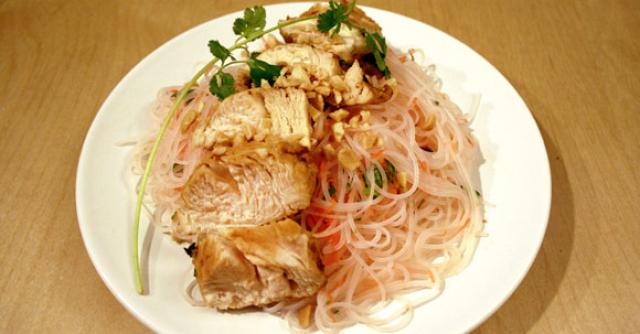 Ginger Chicken with Rice Noodles
Prep Time: 30 minutes | Cook Time: 20 minutes | Yield: 4 servings
Ingredients
4 tablespoons finely chopped scallions

3 teaspoons grated fresh ginger

8 garlic cloves, minced

2 teaspoons olive oil

1/4 teaspoon salt

4 4-ounce skinless boneless chicken breast halves

4 ounces dried rice noodles

2 limes

2 teaspoons packed brown sugar

1 cup shredded carrot

4 tablespoons fresh cilantro leaves

4 tablespoons chopped peanuts
Instructions
In a small bowl, combine scallion, ginger, 6 garlic cloves, olive oil and salt.
Coat chicken breasts with mixture and arrange on the unheated rack of a broiler pan.
Broil 4-5 inches from the heat for 12-15 minutes, turning once.
Slice chicken diagonally. Keep warm.
Cook noodles in a large saucepan in boiling water for 3-4 minutes until tender, drain.
Shred 2 teaspoons lime peel and squeeze 2 tablespoons lime juice into a bowl.
Add sugar and remaining 2 garlic cloves. Stir until sugar dissolves.
Add noodles, carrot and peanuts. Toss.
Spoon onto plates and arrange chicken on top.