Gyros are a Greek sandwich traditionally made with lamb, but this one uses flank steak along with the yogurt sauce and feta.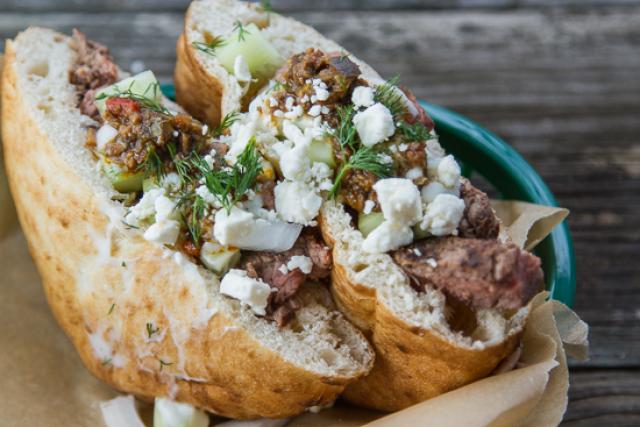 Flank Steak Gyros
Prep Time: 5 minutes | Cook Time: 20 minutes | Yield: 4 servings
Ingredients
MARINADE

1 pound flank steak

1/4 cup olive oil

1 teaspoon dried oregano

coarse salt and freshly ground pepper, to taste

SAUCE

1 cup plain yogurt

2 tablespoons fresh dill (can use dried), chopped

1 teaspoon garlic, minced

2 tablespoons lemon juice

4 6-inch pita pockets

1 white onion, thinly sliced

1 cucumber, peeled and thinly sliced

1/4 cup crumbled feta cheese
Instructions
Cut the flank steak into thin strips against the grain. (To make slicing easier, place the meat in the freezer for about 10 minutes and then slice it). Prop open a large ziptop bag and add the olive oil, oregano and salt and pepper and mix well. Add the meat slices to the bag and turn to coat. Place in the refrigerator and let marinate 2 hours or up to all day. Preheat the oven to 250 degrees.
In a small bowl mix together the yogurt, dill, garlic and lemon juice and set aside.
Spritz the pitas with a little water, wrap in foil and place in the oven to warm.
Heat one tablespoon of olive oil in a heavy large skillet over medium-high heat. Remove meat from bag and discard marinade. Add meat slices to pan and saute until brown and cooked through, about 5 minutes. Transfer to a plate and add another tablespoon of oil to the skillet. Saute the onion until beginning to brown, about 5 minutes. Return the meat and any juices to the skillet and stir until heated.
Arrange the pita bread on plates and top with the cucumber rounds and the beef mixture. Spoon some yogurt sauce over the meat and top with feta. Fold the gyros in half and serve.