This healthy dinner recipe is a flavorful shrimp curry that works well in lettuce wraps, tortillas, or tacos.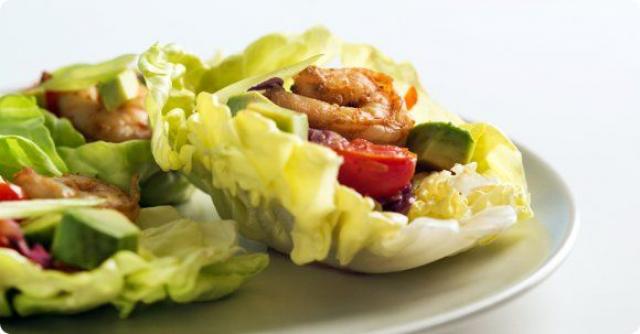 Curry Shrimp
Prep Time: 30 minutes | Yield: 4-6 servings
Ingredients
1 pound shrimp

1 pack cherry tomatoes

2 avocados

1 lemon

2 carrots, shredded

1/4 purple cabbage, shredded

1 small red onion

3 tablespoons olive oil

3 cloves crushed garlic

5 stalks cilantro, chopped

1 pack butter lettuce

CURRY MIX

3 tablespoons curry powder

1 teaspoon cumin

1 teaspoon coriander

1 teaspoon paprika

Pinch sea salt
Instructions
In a medium bowl, season shrimp with curry spice mix and let marinate in refrigerator for 10 minutes. Cut cherry tomatoes in half and set aside. Dice avocados, add some lemon juice to keep from turning brown and set aside. Shred carrots and cabbage and set aside. Thinly slice red onions and scallions, and mince garlic cloves.
In a medium skillet, heat olive oil over medium-high heat. Add garlic; saute, stirring occasionally, for one minute. Add seasoned shrimp and cook until pink (about 3-5 minutes). Stir in carrots, cabbage, red onion and green onions, and saute for 1-2 minutes. Add cherry tomatoes and cilantro and cook for one more minute, stirring, then remove from the stove.
Divide lettuce into leaves. Spoon about 1/4 cup mixture down center of each lettuce leaf; add some chopped avocado and a squirt of lemon juice.
Fold lettuce up and over filling and enjoy!