This is a simple preparation for Chinese-style eggs. If you like it spicy, you can add some hot sauce when you add the soy sauce. Serve with rice and other dishes as part of a family-style dinner.
From the author:
"I love this dish for its utilitarian nature that carries it through breakfast, lunch or dinner. It'™s even better when local tomatoes are actually in season, but a hothouse tomato will do in a pinch."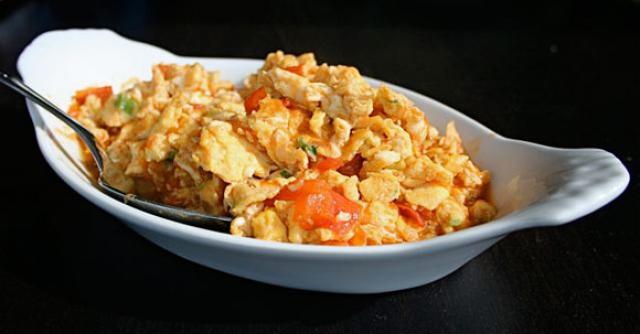 Chinese Tomato Eggs
Prep Time: 5 minutes | Cook Time: 10 minutes | Yield: 3 servings
Ingredients
2 tablespoons vegetable oil, plus more as needed

1 stalk green onion, finely chopped

6 large eggs, beaten

1 cup diced fresh tomatoes

2 tablespoons soy sauce

Splash of water, if needed

Optional: 1/2 tsp sesame oil, 1/8 tsp white pepper
Instructions
In a wok or skillet over medium-high heat, heat the oil. When oil is hot, add the green onions and fry for 20 seconds.
Add beaten eggs, gently scrambling with white pepper, if using. Once eggs are cooked but still tender, push them to the side of the wok where it's not as hot.
Add about a teaspoon of oil to center of wok. Add diced tomatoes and stir-fry until soft, about 1 minute. Add the soy sauce and stir.
Combine the eggs with the sauce. If it looks too dry, add just a splash of water. Gently stir-fry for about 1 minute.
Drizzle with sesame oil, if using, and serve.