Chili mac is a quick and hearty one-dish meal of beef, beans, tomatoes, cheese and spices. For extra flavor, add a generous teaspoon of Italian seasoning and some salt and pepper.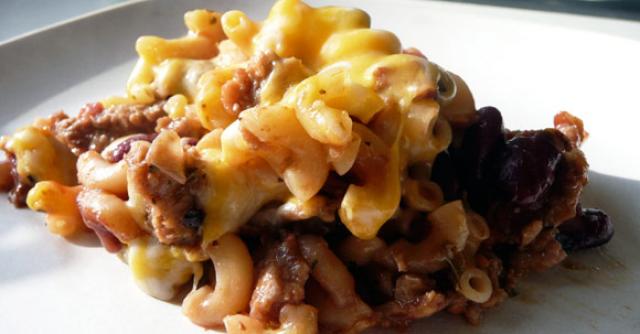 Chili Mac
Prep Time: 35 minutes | Yield: 6 servings
Ingredients
1 pound ground beef

1 teaspoon minced garlic

1 teaspoon chili powder (add more to taste)

1 14-ounce can kidney beans, drained

1 14-ounce can diced tomatoes with garlic and onion

1 cup elbow macaroni, uncooked

1/2 cup water

1 cup shredded cheddar cheese

Optional: 1/2 cup diced onion
Instructions
In large skillet, cook ground beef and onion (optional) until beef is no longer pink and onions are softened.
Add minced garlic, chili powder, beans, tomatoes, macaroni and water.
Bring to a boil. Cover and reduce heat to low. Simmer for 15-20 minutes, until macaroni is tender.
Add cheese and cover for two minutes until melted. Serve immediately.