Chicken Marbella is a classic, elegant dish that you can get on the table in no time by starting the marinade the night before. Feed a crowd with this recipe, or cut it in half or 1/4 for a single family dinner.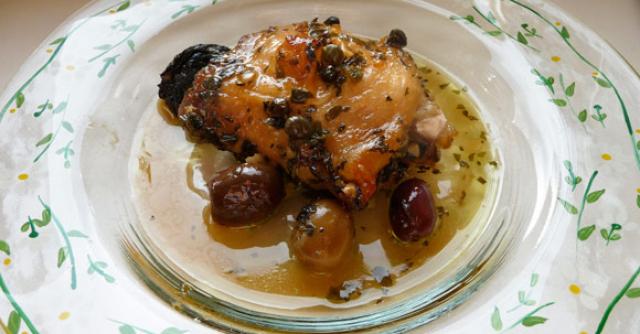 Chicken Marbella
Prep Time: 15 minutes | Cook Time: 30 minutes | Yield: 12 servings
Ingredients
12 oounces pitted, bite-sized dried plums

1 3.5-ounce jar capers

1 0.5-ounce bottle dried oregano

6 bay leaves

1 garlic clove, minced

1 cup pimento-stuffed olives

1/2 cup red wine vinegar

1/2 cup olive oil

1 tablespoon coarse sea salt

2 teaspoons pepper

4 pounds boneless chicken breasts

1 cup brown sugar

1 cup dry white wine
Instructions
Combine first 10 ingredients in a large bowl or zip-top freezer bag. Add chicken pieces, turning to coat well, then cover or seal.
Chill for 8 hours (overnight is best), turning chicken occasionally.
Preheat oven to 350 F. Arrange chicken in a single layer in one or two 9X13 baking pans.
Pour marinade evenly over chicken, then sprinkle evenly with brown sugar, and pour wine around chicken pieces.
Bake 30-40 minutes, basting frequently.