This is a delicious combination of flavors and can be served over fresh baby spinach, other veggies or pasta. If you have leftover sauce be sure to save it for a pasta meal later in the week (can be smoothed with a emulsion blender).
Thanks to Dinner Club member Nicole B. for sharing this one-dish meal. She says it's great because everyone can get their hands in it, and it makes the BEST leftovers.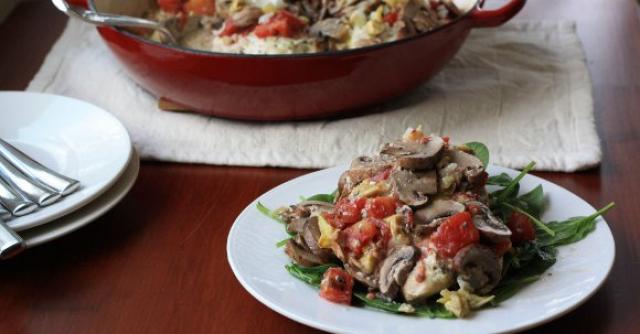 Chicken with Fire Roasted Tomatoes
Prep Time: 15 minutes | Cook Time: 40 minutes | Yield: 6 servings
Ingredients
4-6 chicken breast (bone-in or boneless)

1 cup mayonnaise

1 cup Parmesan cheese

2 tablespoons Italian seasoning

1 can diced fire roasted tomatoes, drained

8 ounces (or 1 small package) fresh mushrooms, cleaned and sliced

1 small jar marinated artichokes, drained and chopped

1/4 cup diced onions

2 cloves fresh garlic, minced (optional)
Instructions
Preheat the oven to 350 F. Mix together the mayo, Parmesan cheese and Italian seasoning.
Rinse chicken breast and pat dry with paper towel.
Coat chicken with mayo/cheese mixture and arrange in baking dish.
Add tomatoes, mushrooms, artichokes, onions and garlic.
Bake 40-60 minutes at 350 F until chicken is fully cooked (closer to 40 minutes for boneless chicken breasts, longer for bone-in chicken breasts).