If your family likes Thai food, this is a winner for a quick week night meal, and the coconut and curry flavors are simply delicious.

Thanks to Lisa S. for sharing the recipe! She says it's fast, easy, and you have just a few ingredients to buy.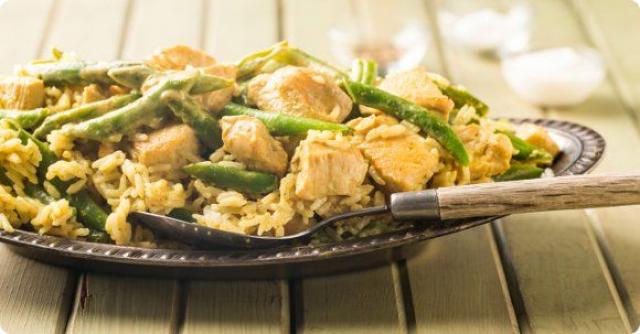 Chicken Curry in a Hurry

Prep Time: 25 minutes | Yield: 4 servings
Ingredients
1 cup uncooked rice*

2 cups green beans, cut into bite size pieces

1 tablespoon olive oil

2 skinless boneless chicken breasts, cut into bite size pieces

2 teaspoons curry spice (add more or less depending on your taste)

1/2 teaspoon salt

1 cup (or 1 small can) coconut milk (shake it before using)

*Lisa uses 2 cups of instant rice and cooks it with 2 cups of water, then adds the coconut milk and remaining ingredients.
Instructions
Begin cooking rice according to package directions.
In another medium sauce pan, add about an inch of water and bring to a boil. Add green beans and boil lightly with the lid on for 4-5 minutes. Drain.
Heat the olive oil over medium heat in the same saucepan as the green beans were cooked (or use a new skillet). Add the chicken pieces and sprinkle curry spice and salt over chicken. Saute until chicken is cooked through, 5-8 minutes.
Add the rice, green beans and coconut milk to the chicken. Heat, stirring, for one or two minutes until warmed throughout.